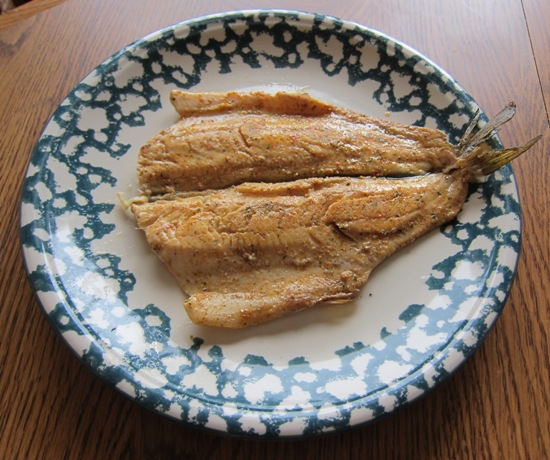 I really like rainbow trout, it's such a gentle fresh fish that just melts in your mouth!  In this recipe, the rainbow trout is sprinkled with Cajun seasoning and pan-fried with a little bit of oil.  The resulting fish has just the right amount of spice and is tender and flaky – it will be eaten in seconds!
When the fish is labeled "trout" as a supermarket, it can be one of the two different kinds of trout – rainbow trout or salmon trout.  These two kinds of fish have different taste – the salmon trout is orange like salmon and tastes pretty similar to salmon, but rainbow trout is white and tastes more similar to white fish.
For some reason, rainbow trout is often sold in a "whole fish" form, and I certainly don't feel like dealing with cleaning the fish and taking out the bones.  So whenever I see rainbow trout sold in a fillet form, I get really excited and buy it, and we have a rainbow trout fish dinner!
Rainbow trout is a bony fish, so even the fillets often have bones, so you need to be careful.  When I buy rainbow trout fillets in Whole Foods, I ask the person at the fish counter to check for bones (Whole Foods does this service, you just have to ask), and they get the bones out.  The skin of the rainbow trout is very tender and edible, so you don't need to remove it.
Cajun Rainbow Trout Recipe
Cooking time: 4 minutes
Number of servings: 4
Ingredients
2 lbs rainbow trout fillets
1 tbsp Cajun spice seasoning
1 tbsp oil
Instructions How To Cook Rainbow Trout
Heat the oil in a non-stick frying pan over medium-high heat.
Put the rainbow trout fillets on the frying pan skin side down, and make sure they are not touching.
Sprinkle with rainbow trout fish with the Cajun seasoning.
Cook rainbow trout for 2 minutes, then flip the fish and cook for another 2 minutes, or until cooked through (flakes easily with a fork).
For more fish recipes with Cajun seasoning, check out Cajun Rockfish recipe and how to make Cajun white fish.  For a rainbow trout recipe without Cajun flavor, check out simple rainbow trout recipe.
http://www.melaniecooks.com/wp-content/uploads/2013/01/cajun-rainbow-trout.jpg
460
550
Melanie Mendelson
http://www.melaniecooks.com/wp-content/uploads/2015/11/logo-new2.png
Melanie Mendelson
2013-01-30 08:30:56
2013-07-09 17:41:34
Cajun Rainbow Trout Recipe