Oreo Truffles – Easy No-Bake Oreo Balls Recipe
This post may contain affiliate links (disclosure).
These easy no-bake Oreo truffles are so simple to make with just 2 ingredients! Everyone loves these yummy homemade Oreo balls!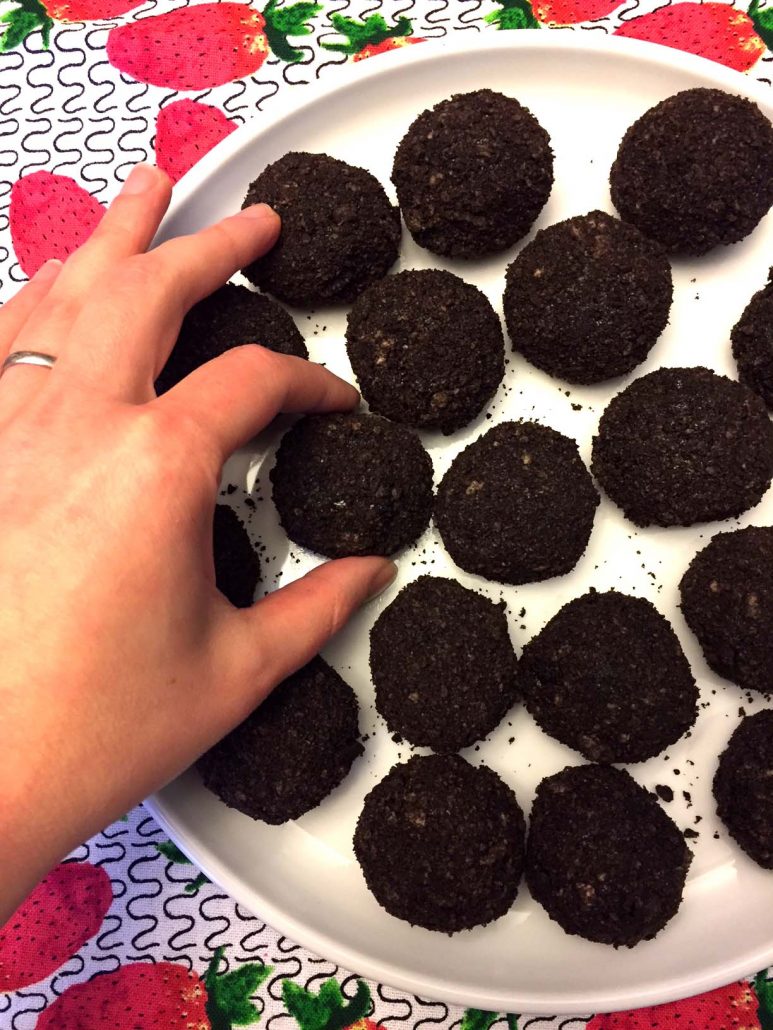 These Oreo truffles taste as good as they look! Bite into these soft Oreo balls and taste the Oreo crumbs that just melt away in your mouth.
Everyone just goes crazy over these homemade Oreo truffles. If you bring them to a party, these Oreo balls will be the first to disappear. When people see the crumbled Oreo coating, they just can't resist. And when the words "Oreo truffles" are mentioned, people flock to the plate with them like mad.
See the Oreo truffles and salivate. Reach for the Oreo truffle and put it in your mouth. Taste the Oreo and have your dream come true. Chew the Oreo ball and repeat. You need more and more, after all.
Have your ever tried making Oreo truffles before and ended up with a "Pinterest fail"? There are tons of recipes for Oreo balls floating around Pinterest, but they don't tell you that yours won't look like theirs ;) Well, now you are in luck! I guarantee that if you make Oreo balls according to my recipe, yours will look exactly the same as the ones on my pictures!
A classic Oreo truffles recipe has 3 ingredients: Oreo cookies, cream cheese and white chocolate. Mine has just 2 ingredients: Oreos and cream cheese. Why did I dump the white chocolate? Simple – because white chocolate coating looks like a mess when REAL PEOPLE use it to dip the Oreo balls :) Just say No to Pinterest fails! This recipe is for normal people, not some candy-making professionals!
In my Oreo truffles recipe, I use Oreo crumbs as a coating for the balls. There is no better coating for Oreo truffles as the crumbs from the actual Oreo cookies!
When you roll them into Oreo crumbs, your truffles will look awesome and won't stick to anything. Plus they'll actually look like they are made of Oreos! Simple is always best, and these Oreo truffles are no exception!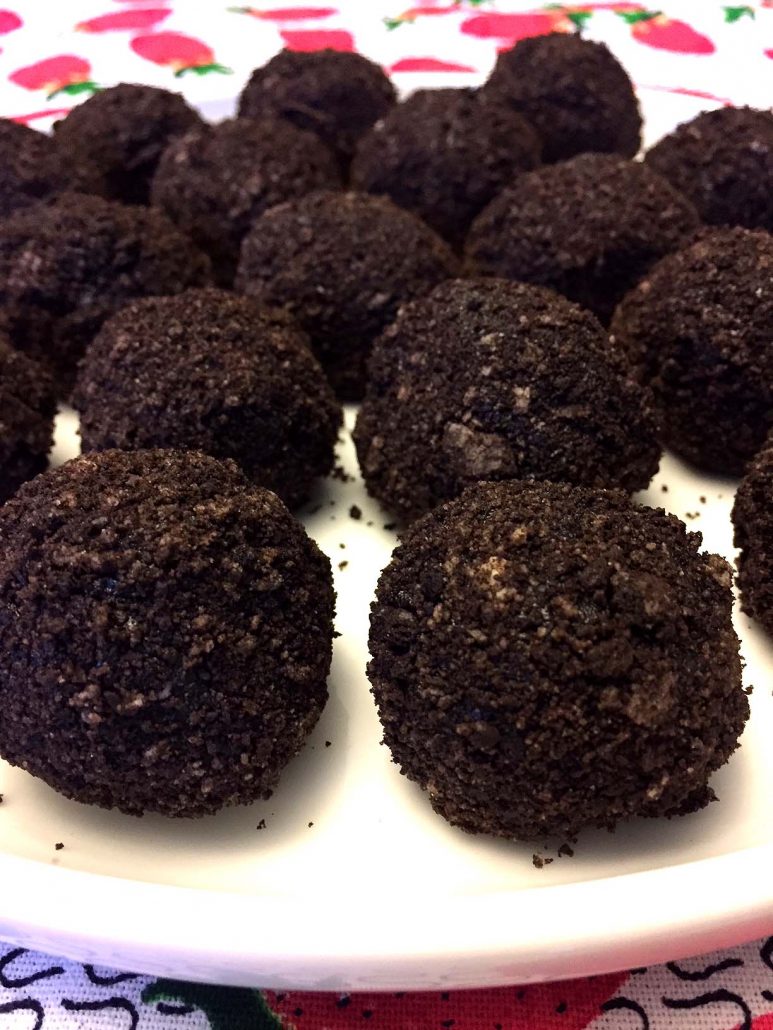 Making these 2-ingredient no-bake Oreo truffles is super easy. Just combine the Oreo cookies and cream cheese in the food processor to make the truffle mixture, then roll it into balls, then dip the Oreo balls in Oreo crumbs.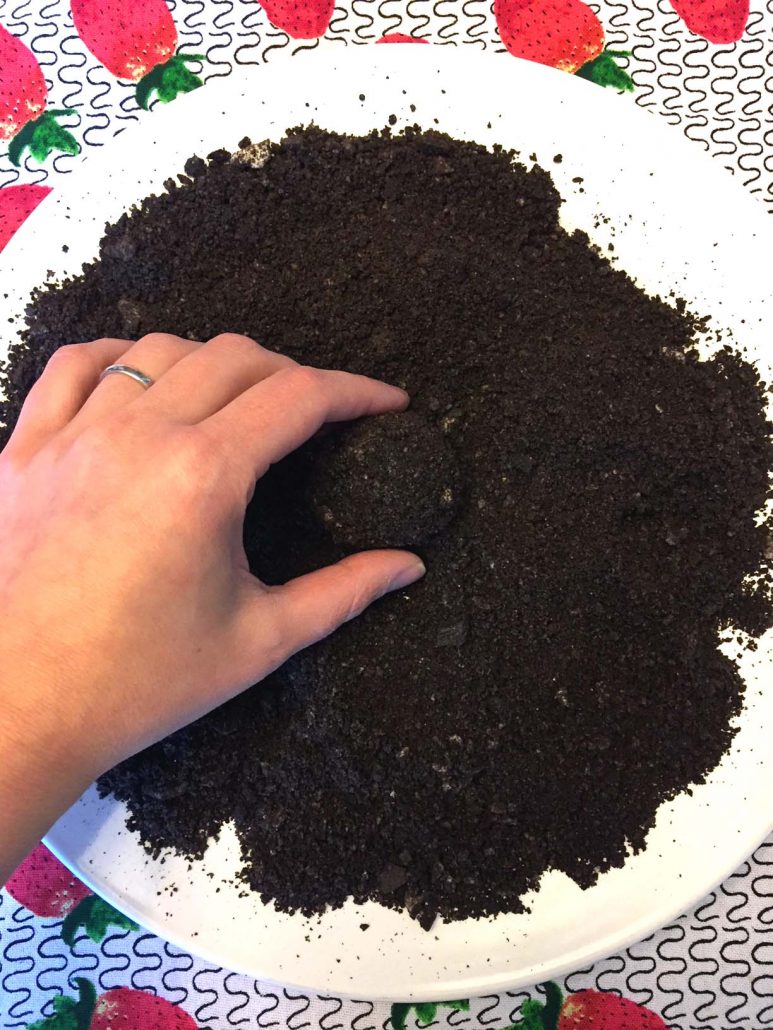 Easy and foolproof, these Oreo truffles turn out perfect every time!
If you like these easy Oreo truffles, you will also love these easy yummy recipes:
Easy Oreo Cake – can't get enough Oreos? Make this amazing chocolate cake with white buttercream frosting and Oreo crumbs, yum-yum!
Chocolate Chip Cookie Cake – it's like a giant cookie in cake form! Looks and tastes like a professional cookie cake from a bakery!
Double Chocolate Cookies – if you love oreos, you'll love these extra soft and big double chocolate cookies too!
Cookie Dough Truffles – you no longer have to sneak raw cookie dough when you make these truffles with EDIBLE cookie dough!
Chocolate Truffle Cake – epic cake for chocolate lovers! Chocolate cake with chocolate crumbs and homemade chocolate truffles on top!
Click Here To Pin This Recipe
Easy Oreo Truffles
These foolproof 2-ingredient Oreo truffles always look great and taste amazing! No more Pinterest fails :) You don't need to dip these in messy white chocolate - roll them in crushed Oreo crumbs instead! Truly mouthwatering!
Ingredients
1 1/2

packages Oreos

54 Oreo cookies

1

package

8 oz cream cheese
Instructions
Put 1/2 package of Oreos in a food processor fitted with a steel blade and pulse until they turn into crumbs (about 30 seconds). Remove Oreo crumbs from the food processor and put on a large plate.

Put the remaining 1 package of Oreos and cream cheese into the food processor fitted with a steel blade. Process until the mixture is smooth (about 2 minutes).

Put the Oreo and cream cheese mixture in a bowl and put in a freezer (uncovered) for 20 minutes.

Take the Oreo mixture by the tablespoon and roll with your hands into balls.

Dip each Oreo ball into Oreo crumbs, and roll until it's coated with Oreo crumbs on all sides.

Put Oreo truffles on a plate and refrigerate for at least 30 minutes before serving. Keep refrigerated.
Save This Recipe
Save this for later on your social media:
Get Melanie's FREE Recipes In Your Inbox!
https://www.melaniecooks.com/wp-content/uploads/2018/01/oreo_truffles_best_ever.jpg
1632
1224
Melanie Mendelson
https://www.melaniecooks.com/wp-content/uploads/2015/11/logo-new2.png
Melanie Mendelson
2018-02-05 07:28:25
2021-12-08 07:53:03
Oreo Truffles – Easy No-Bake Oreo Balls Recipe