Homemade Strawberry Lemonade Recipe With Freshly Squeezed Lemons & Strawberry Slices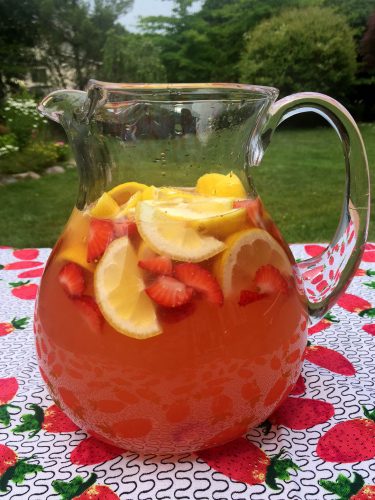 1 cup lemon juice (freshly squeezed from about 6 lemons)
1 lemon, sliced
1 lb strawberries, thinly sliced
1¼ cup sugar, divided
9 cups water, divided
Slice the strawberries and put them in a bowl. Sprinkle ½ cup of sugar over the sliced strawberries, and stir with a spoon. Set aside for 1 hour at room temperature, so the strawberries will release the juice and the sugar dissolves. After 1 hour, press on the strawberries with the back of the spoon so they release even more juice.
In a saucepan, combine ¾ cups of sugar and 1 cup of water. Bring to a boil, then remove from heat and stir, so the sugar is dissolved. Set the sugar syrup aside and let it cool.
In a serving pitcher, pour 1 cup of freshly squeezed lemon juice, sugar syrup and 8 cups of cold water. Add the strawberries with their juice and lemon slices.
Recipe by
Melanie Cooks
at https://www.melaniecooks.com/strawberry-lemonade/9526/