Easy Taco Salad Recipe In Taco Shell Bowls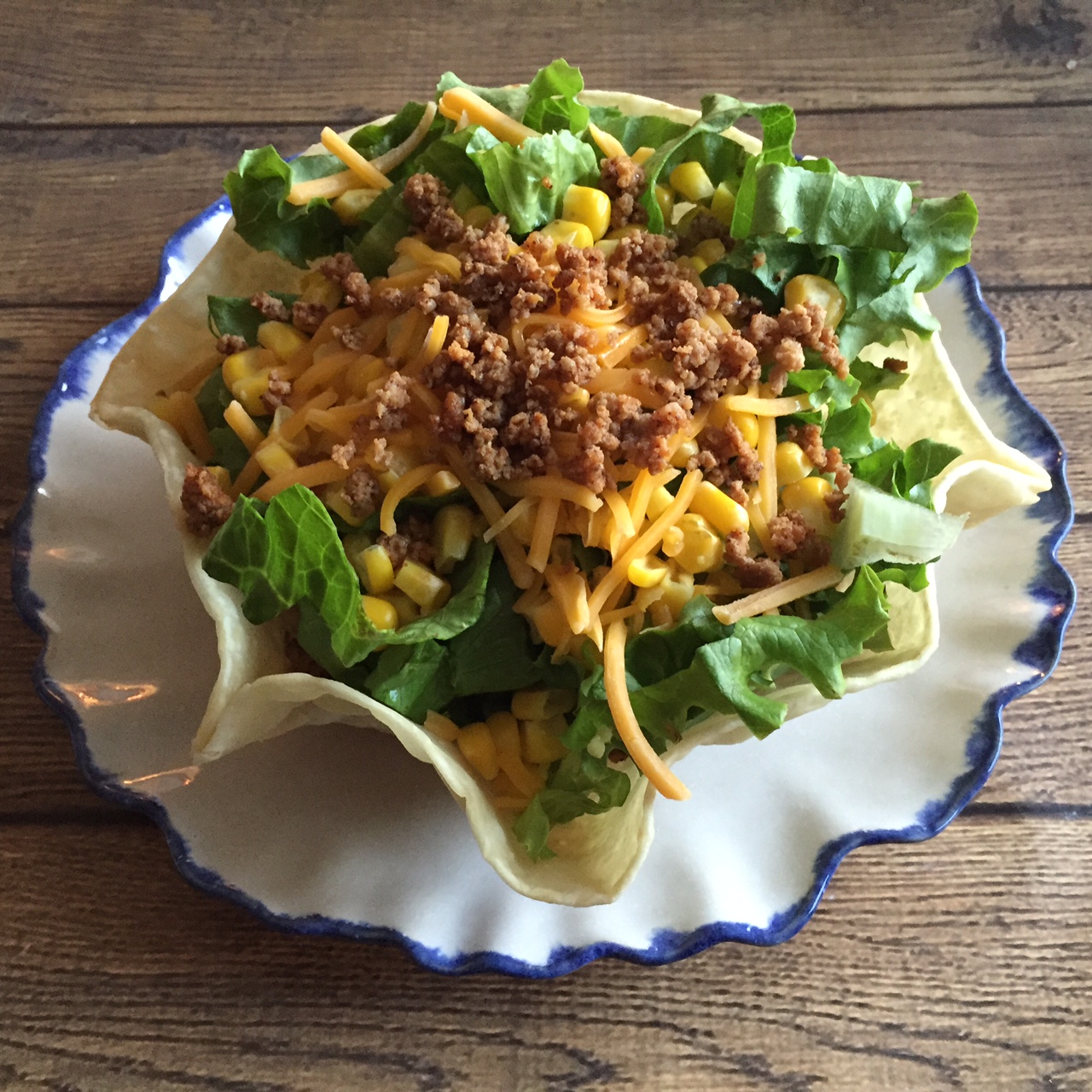 4 8-inch flour tortillas
2 tbsp olive oil
1 lb ground turkey
1 tbsp Taco seasoning
2 onions, sliced
1 can corn, drained
1 cup salsa, prepared
2 avocados
½ lime
1 package (5 oz) lettuce, shredded
Preheat oven to 375F.
Microwave the tortillas for 30 seconds until soft.
Brush the flour tortillas with 1 tbsp olive oil on both sides.
Put 4 oven-safe cups upside-down on a baking sheet.
Drape each tortilla over the cup, put in the oven and bake for 10 minutes.
Remove from the oven, let cool, then remove the taco bowls from the cups.
Heat a 1 tsp of oil in a non-stick frying pan over medium-high heat. Add the ground meat and taco seasoning, and cook, stirring every minute, for 5 minutes, or until cooked through. Remove the cooked meat into a bowl.
Add 2 tsp of oil to the frying pan and add the onions. Cook, stirring every minute, for 5 minutes. Remove the onions into a separate bowl.
Peel the avocados and remove and discard the pits. Put the avocados in a bowl, squeeze the lime over them, then mash with a fork until smooth. Sprinkle with salt and pepper to taste.
Divide all ingredients between 4 taco shell bowls.
First add the meat to the taco shell bowl, then onions, followed by salsa, corn, guacamole, lettuce and shredded cheese.
Recipe by
Melanie Cooks
at https://www.melaniecooks.com/taco-salad-recipe/8696/