Italian Chicken Parmesan (Parmigiana) Recipe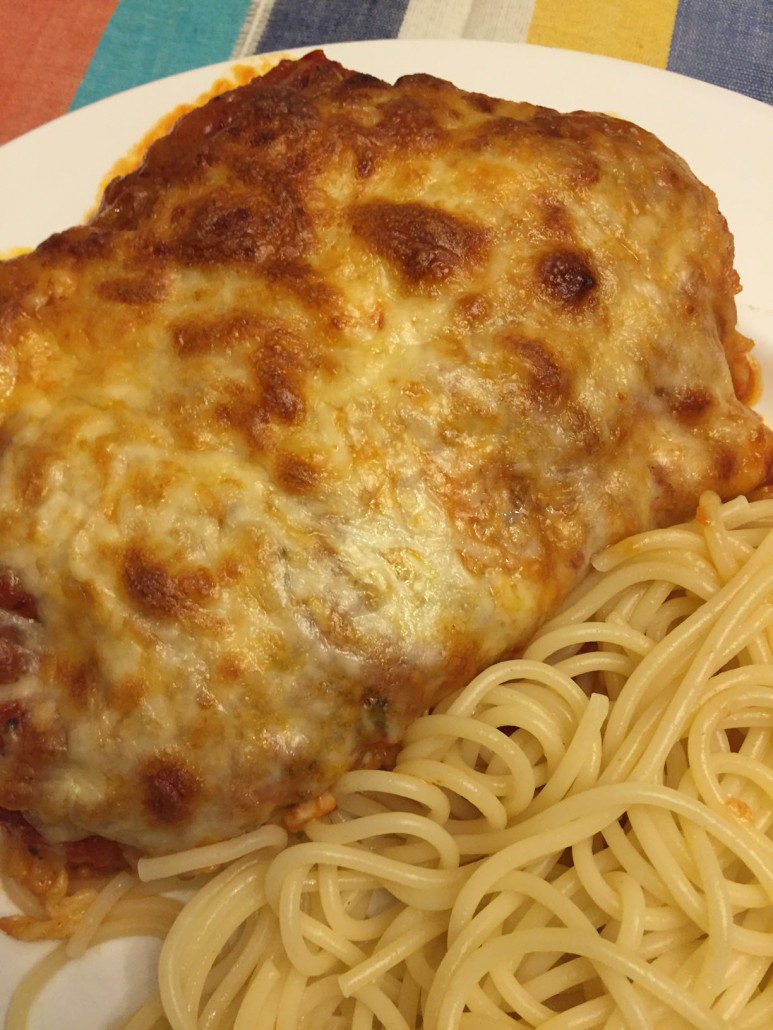 4 boneless skinless chicken breasts
2 eggs
1 cup grated Parmesan cheese
½ cup flour
2 cups Panko breadcrumbs
2 tbsp oil
8 oz mozzarella cheese
16 oz pasta sauce
½ tsp salt
¼ tsp pepper.
Preheat the oven to 425F.
Pound the chicken breasts with a meat mallet between 2 sheets of plastic wrap until they are even thickness and about ½ inch thick. Rub the chicken with salt and pepper. (We are using less than usual amount of salt because some of the salt will come from Parmesan cheese).
Whisk the eggs in a bowl with a fork.
Put the flour on a large plate.
Put the bread crumbs and ½ cup of Parmesan cheese on another large plate and mix them until combined.
Dip each chicken breast in flour on both sides, then dip it in egg on both sides, then dip into the bread crumb mixture on both sides, pressing into the bread crumbs so they stick.
Heat the oil in a large non-stick frying pan over medium-high heat.
Put the chicken on a frying pan in a single layer (you'll need to do it in 2 batches) and cook for 2 minutes on each side, or until the bread crumbs are golden-brown in color. The chicken doesn't need to be fully cooked - it will finish cooking in the oven. This step is just for browning the outside of the chicken.
Put the chicken in a 8 x 12 non-stick baking dish in a single layer. Pour the pasta sauce over the chicken, and sprinkle with the mozzarella cheese. Sprinkle the remaining Parmesan cheese on top.
Put the chicken Parmesan in the oven and bake for 20 minutes.
Recipe by
Melanie Cooks
at https://www.melaniecooks.com/chicken-parmesan-recipe/8339/