Homemade Gyros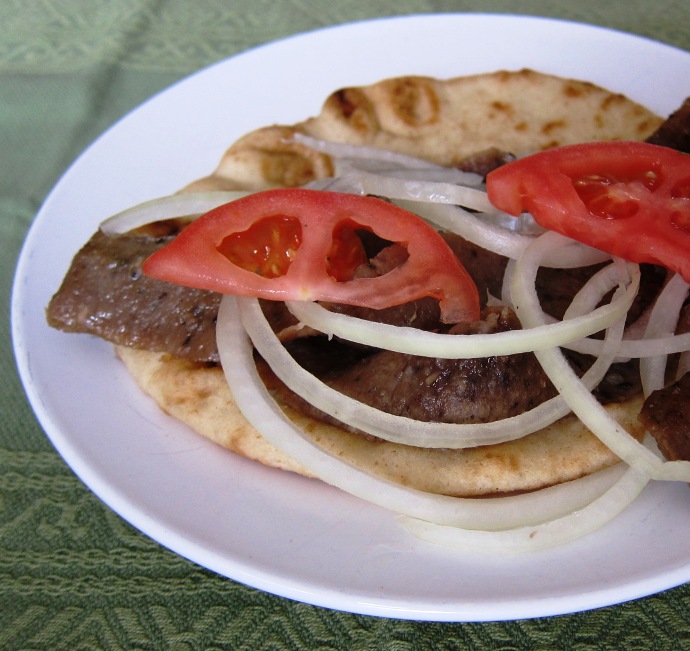 1 lb ground lamb
1 lb ground beef
2 tsp salt
¼ tsp pepper
3 garlic cloves, minced
1 tsp dried marjoram
1 tsp dried oregano
1 tsp dried thyme
1 tsp dried rosemary
1 tsp dried basil
Preheat the oven to 300F.
Mix all ingredients.
Put the meat mixture in a food processor fitted with a steel blade and process for 2 minutes until it turns into a paste (if it doesn't fit in the food processor at once, do it in two batches).
Line the baking sheet with parchment paper.
Put the meat paste on a baking sheet and shape into a long rectangle meatloaf (about 12 inches long and 5 inches wide).
Put in the oven and bake for 1 hour (or until the instant-read thermometer registers 160F).
Remove from the oven and allow to rest for 15 minutes.
Change the oven to Broil.
Slice the gyro meat into extremely thin slices (no thicker than ⅛ inch). Slicing is very easy if you use a serrated knife.
Lay the thin slices on a baking sheet lined with parchment paper. Make sure the slices are in a single layer and are not touching each other. You will need to do it in several batches as they won't all fit at once (I just use several baking sheets).
Broil the gyros slices for 2 to 4 minutes, until browned (be careful not to burn them).