Pasta Recipe With Cherry Tomatoes And Ricotta Cheese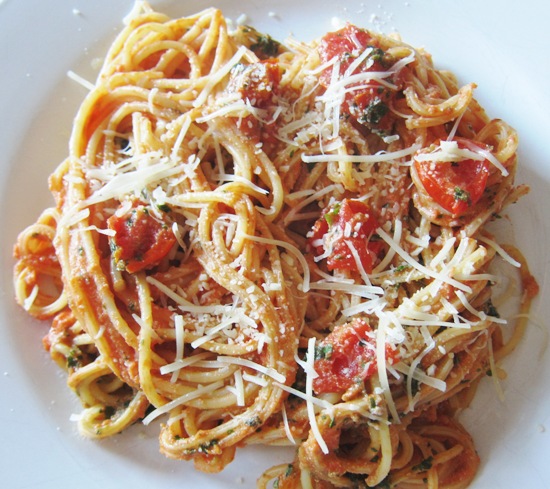 Author:
Melanie Mendelson
1 lb pasta (I used spaghetti)
1 lb cherry tomatoes, cut in half
3 garlic cloves, minced
8 oz ricotta cheese
1 bunch (1/2 cup) fresh basil leaves, chopped
4 tbsp extra-virgin olive oil
½ tsp salt
⅛ tsp pepper
Cook the pasta according to package directions.
While the pasta is cooking, use this time to prepare other ingredients (cut the tomatoes, mince the garlic, chop the basil).
When the pasta finishes cooking, drain it, and then immediately put it back into the hot pot that you used to cook it.
Add all other ingredients to the pasta, and turn on the burner to medium heat.
Mix everything thoroughly (you can use 2 forks to work the ricotta into the pasta).
Cook for 3 minutes, stirring every 1 minute, then remove the pasta from heat and serve.
When you put the pasta on a plate, sprinkle with Parmesan cheese on top.
Recipe by
Melanie Cooks
at https://www.melaniecooks.com/pasta-recipe-with-cherry-tomatoes-and-ricotta-cheese/6340/