Mashed Sweet Potatoes Recipe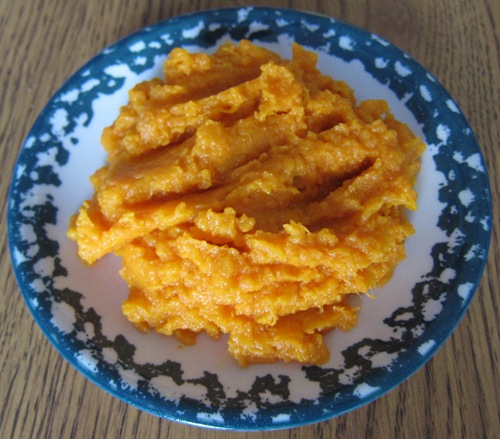 4 sweet potatoes
2 tbsp butter
2 tbsp maple syrup
¼ tsp salt
Preheat oven to 375F.
Put the sweet potatoes on a baking sheet. Put in the oven and bake for 45 minutes.
Remove baked sweet potatoes from the oven and let them cool for 15 minutes.
Carefully peel the sweet potatoes (the peel will come right off).
Put the sweet potatoes in a bowl.
Cut the butter into several pieces and add to the sweet potatoes.
Pour maple syrup over the potatoes and sprinkle with salt.
Mash the sweet potatoes with a potato masher until smooth.
If more sweetness is desired, add more maple syrup to taste.
For a super-healthy version, feel free to omit butter and maple syrup!
Recipe by
Melanie Cooks
at https://www.melaniecooks.com/mashed-sweet-potatoes-recipe/4882/