Russian Stuffed Cabbage Rolls "Golubtsy" Recipe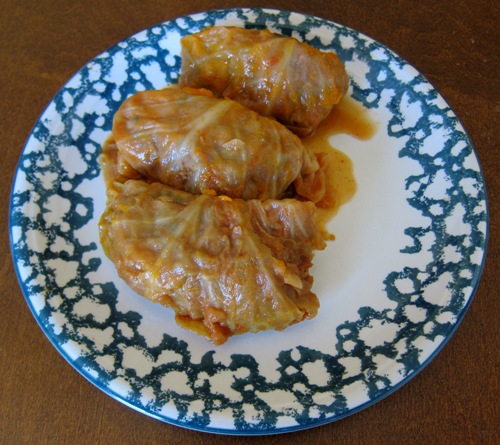 1 cup of white rice, cooked
1 head of cabbage
1 chopped onion
1 lb ground beef
1 egg
1 tsp salt
¼ tsp pepper
2 can (14 oz each) tomato sauce
Wrap the cabbage in paper towels and put it in the microwave. Microwave the cabbage on High for 15 minutes. Let stand for 10 minutes, as the cabbage will be very hot.
In a bowl, combine the ground beef, cooked rice, egg and chopped onion. Sprinkle with salt and pepper, and mix until everything is combined.
Carefully separate the leaves from the cabbage (you can cut the bottom of the leaves from the cabbage with scissors).
Take a handful of meat mixture and put it inside the cabbage leave, then roll like a burrito (first fold the ends over the filling, them roll into a tight roll).
Put the cabbage rolls in a large non-stick pot, seam side down. You can put them in the pot in several layers on top of another another.
Pour the tomato sauce over the cabbage rolls. Add enough water so the cabbage rolls are covered with liquid.
Bring to a boil, then reduce heat to low, cover and simmer the stuffed cabbage rolls for 1 hour.
Recipe by
Melanie Cooks
at https://www.melaniecooks.com/russian-stuffed-cabbage-rolls-golubtsy-recipe/4167/