Easy Shrimp Stir Fry Recipe With Frozen Vegetables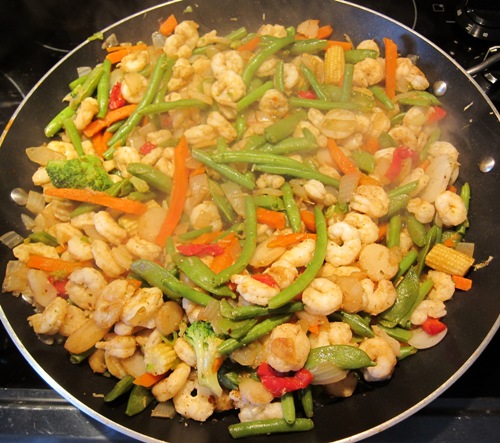 1 package (1 lb) tail-off frozen cooked shrimp
1 package (1 lb) frozen vegetables (stir-fry mix)
1 tbsp oil
2 tbsp soy sauce
4 garlic cloves, minced
¼ tsp pepper
Thaw the shrimp quickly under cold running water (for detailed instructions, see my page on how to defrost shrimp fast).
Thaw the frozen vegetables in a microwave - put in a microwave-safe bowl and cook on High for 3 minutes.
Heat the oil in a non-stick frying pan over medium-high heat. Add shrimp and vegetables and cook, stirring periodically, for 2 minutes.
Add minced garlic, pepper and soy sauce and mix. Cook, stirring occasionally, for 2 minutes.
Taste the shrimp stir fry to see if it's salty enough. If more salt is needed, add more soy sauce to taste.
Recipe by
Melanie Cooks
at https://www.melaniecooks.com/easy-shrimp-stir-fry-recipe-with-frozen-vegetables/3785/