Shrimp Fried Rice Recipe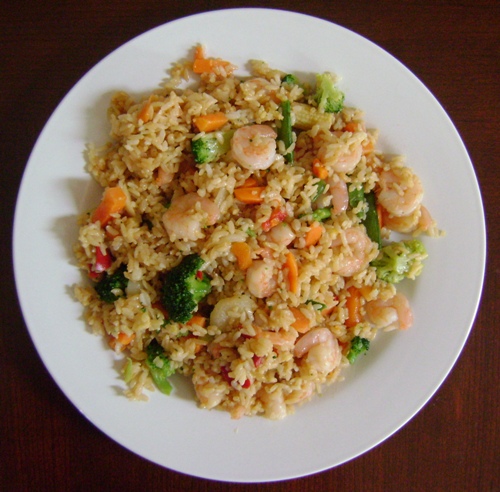 4 cups of cooked white rice
1 lb of frozen cooked tail-off shrimp (thawed)
1 bag (8 oz) of frozen stir-fry vegetables (thawed in a microwave according to package directions)
3 tbsp oil
3 tbsp soy sauce
1 egg
Heat the oil in a large non-stick frying pan over medium-high heat. Add rice and stir until all grains are coated with oil.
Push the rice to the sides of the frying pan and reduce heat to low. Break the egg into a center of a frying pan. Quickly stir the rice and egg together, so the rice is coated with egg.
Drizzle the soy sauce over rice, and stir so the rice is coated with soy sauce.
Add shrimp and veggies. Increase heat to medium-high, and stir until combined. Add extra soy sauce and pepper to taste if needed.