Sweet Potato Shepherd's Pie Recipe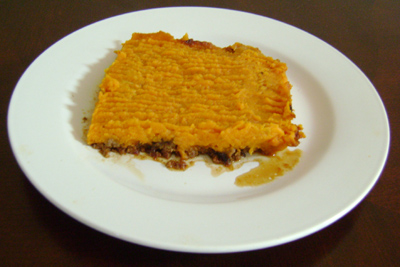 4 sweet potatoes, peeled and cut into quarters
1 lb ground turkey
1 onion, chopped
1 tbsp oil
½ cup milk
1 egg
1 tsp cumin
3 tbsp honey
salt and pepper to taste
Bring a pot of water to a boil. Add the sweet potatoes and boil for 20 minutes, or until tender.
Preheat the oven to 375F.
While the sweet potatoes are boiling, heat the oil on a non-stick frying pan and cook the onion over medium heat for 5 minutes. Add the ground turkey and sprinkle with cumin. Cook, stirring, for 10 minutes, or until the meat is no longer pink. Add salt and pepper to taste.
When the sweet potatoes are cooked, drain them in a colander and put in a large bowl. Add milk and honey and mash with a potato masher.
Put the meat mixture into a large non-stick baking dish (spread it evenly), then spread the mashed sweet potatoes on top. Whisk the egg in a small bowl. Brush the top of the sweet potato mixture with the egg.
Put in the oven and bake for 30 minutes.
Recipe by
Melanie Cooks
at https://www.melaniecooks.com/sweet-potato-shepherds-pie-recipe/256/