Potato Pancakes Latkes Recipe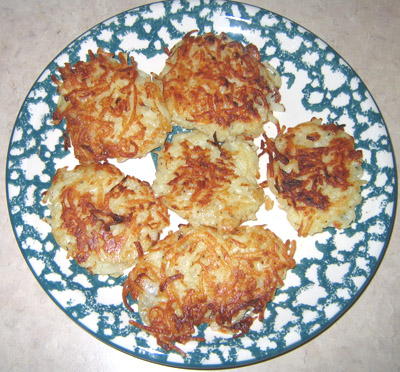 6 medium potatoes
1 onion
2 eggs
4 tbsp flour
1 tsp salt
¼ tsp pepper
4 tbsp oil
Shred the potatoes using the food processor (shredder disk).
Put shredded potatoes in the colander in the sink, and squeeze out as much liquid as you can. Wait for 5 minutes, then squeeze out even more liquid.
Grate the onion using the inside steel blade of the food processor.
Mix potatoes, onion, eggs, flour, salt and pepper.
Heat the oil in the non-stick frying pan on a medium-high heat (I use 2 frying pans on 2 burners to save time or a large griddle).
Form the potato mixture into patties (squeeze out even more excess liquid as you go) and put on a frying pan.
Cook the potato pancakes for 5 minutes, then flip and cook for another 3 minutes (or until golden-brown on both sides and cooked through). Check the potato pancakes from time to time and adjust the heat setting - if they are starting to turn too dark, the heat is too high, and if they are pale, it's too low.
Remove the latkes from the frying pan and serve immediately.
Recipe by
Melanie Cooks
at https://www.melaniecooks.com/potato-pancakes-latkes-recipe/20/