Roasted Turkey Breast Tenderloin Recipe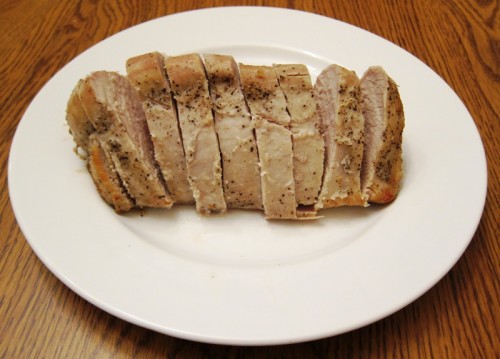 2 lbs turkey breast tenderloin
1½ tsp salt
½ tsp pepper
Preheat the oven to 350F.
Check the packaging of your turkey breast tenderloin to see if it's seasoned or not. Some turkey breast tenderloins come already salted and seasoned, so the last thing you'd want to do is to add even more salt to a pre-seasoned turkey :) If you bought your turkey breast from a butcher counter, it's not seasoned. If it's a packaged turkey breast (for example, Jennie-O brand), chances are it's seasoned, so look at the packaged carefully.
If your turkey breast tenderloin is already seasoned, then you don't need to do anything except putting the turkey in the oven!
If the turkey is not seasoned, rub it with salt and pepper. How much salt do you need for a turkey roast? You need ¾ tsp of salt and ¼ tsp of pepper per each pound of turkey. Rub the unseasoned turkey breast with the salt and pepper all over. You can also rub it with other dried herbs, whichever ones you like.
Line the baking sheet with parchment paper or foil and put the turkey on it. Insert the meat thermometer in the turkey breast tenderloin. Don't puncture the turkey all the way though - the end of the meat thermometer should be in the middle part of the meat.
Put the turkey breast tenderloin in the oven and cook until the meat thermometer registers 165F. The time it takes to cook the turkey breast tenderloin depends on the size of the meat. Start checking on it after 45 minutes, if it's not ready keep checking on it every 15 minutes until it's cooked.
Take the turkey out of the oven, and enjoy this delicious dinner!
Recipe by
Melanie Cooks
at https://www.melaniecooks.com/how-to-make-roasted-turkey-breast-tenderloin-recipe/1992/