Chickpea Quinoa Mason Jar Salad Recipe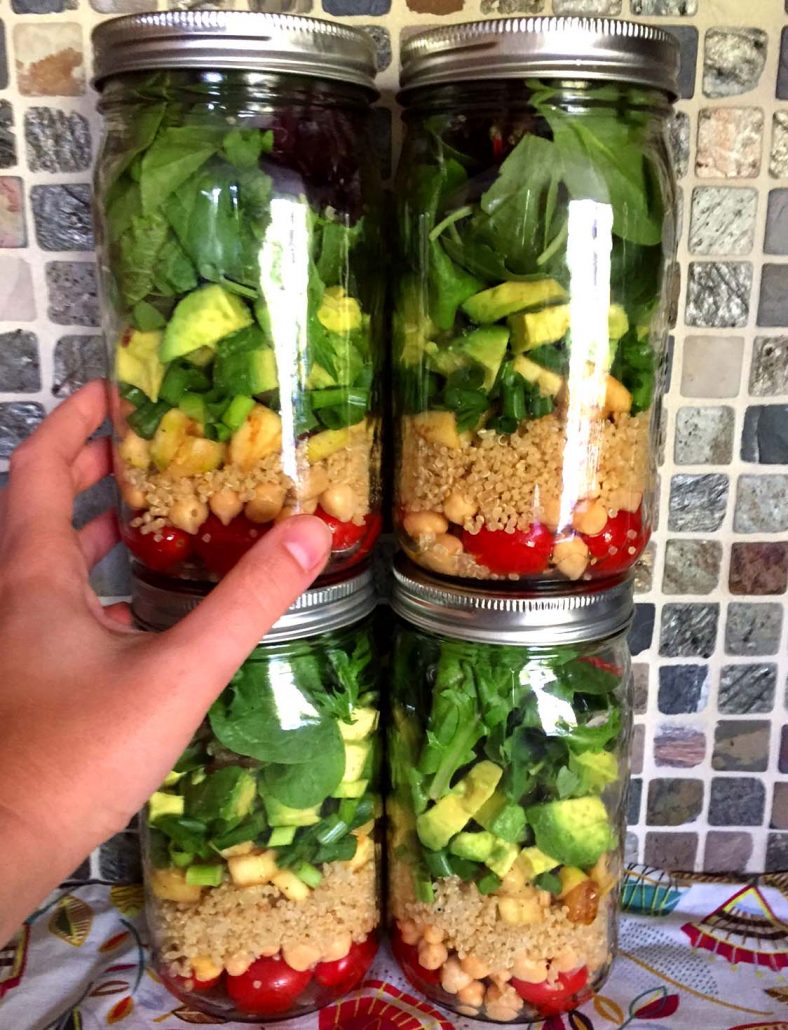 1 pint cherry tomatoes
1 cup quinoa
1 can (15 oz) chickpeas, drained and rinsed
2 zucchinis
2 avocados
1 bunch green onions, chopped
2 cups lettuce
1 large lemon
¼ cup extra virgin olive oil
Cook quinoa according to package directions.
Peel and chop the zucchini. Spray the non-stick frying pan with cooking spray. Add zucchini pieces and cook, stirring occasionally, for 5 minutes, or until tender. Add salt and pepper to taste.
Let quinoa and zucchini cool completely.
Peel the avocados and cut into pieces. Put in a bowl, squeeze ½ of the lemon over them and mix, so the avocado pieces are completely coated in lemon juice (lemon juice will keep avocado from turning brown).
In a cup, put the extra virgin olive oil and the juice from remaining ½ lemon and whisk with fork.
Prepare 4 quart-size (32 oz) mason jars.
Divide the olive oil and lemon juice dressing between the mason jars and pour on the bottom of the jars.
Put the cherry tomatoes in the mason jars.
Put the chickpeas on top of cherry tomatoes.
Put the quinoa on top of chickpeas.
Put the zucchini slices on top of quinoa.
Put the green onions on top of zucchini.
Put the avocado as the next layer,
Fill the remaining space in the mason jars with lettuce leaves.
Close the mason jars and refrigerate for up to 4 days.
Recipe by
Melanie Cooks
at https://www.melaniecooks.com/quinoa-chickpea-mason-jar-salad/11992/