BBQ Chicken Grilled Cheese Sandwich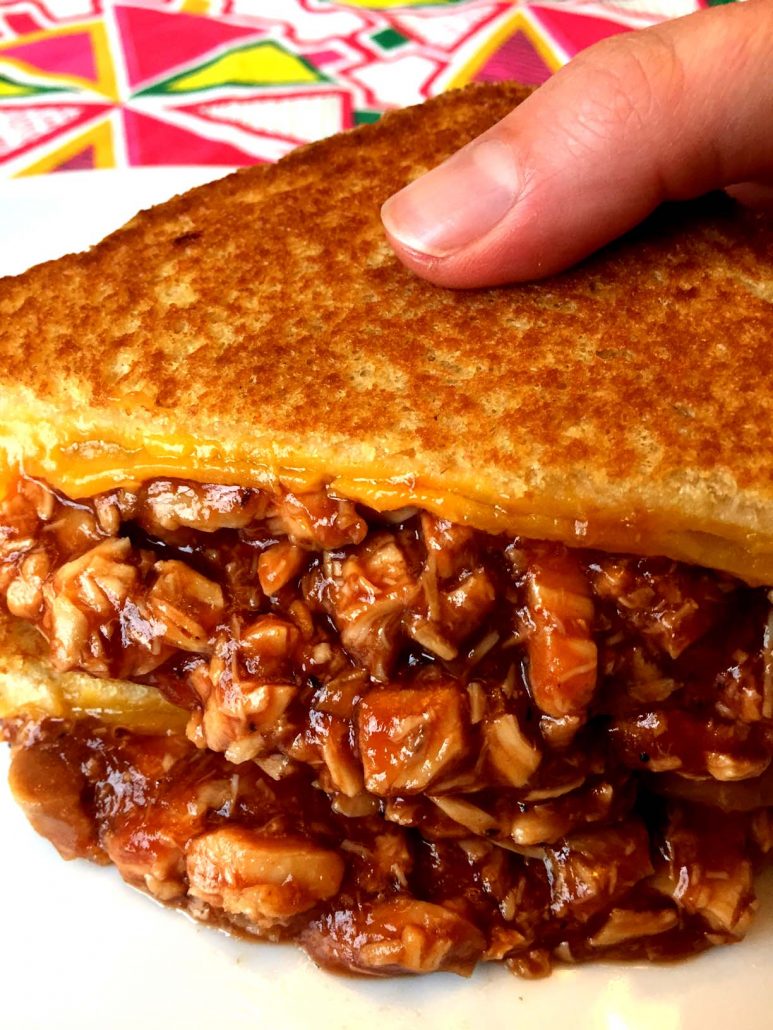 8 slices of bread
8 slices of cheese
4 tbsp butter
2 cups cooked chicken, finely chopped
½ cup BBQ sauce
Spread ½ tbsp of butter on one side of each bread slice.
In a bowl, mix the chopped chicken and BBQ sauce. Heat the barbecue chicken mixture in a microwave for 1 minute or until it's hot.
Assemble a sandwich: put a bread slice of a plate buttered side DOWN, then put a slice of cheese on the bread, spread a quarter of the BBQ chicken mixture on top of cheese, top with the second slice of cheese, and top with another slice of bread (buttered side UP). Basically, the buttered sides have to be on the outside of the sandwich (the butter should come in contact with the frying pan). Repeat to assemble a total of 4 sandwiches.
Spray the non-stick frying pan with a non-stick cooking spray and preheat over medium heat.
Add the grilled cheese sandwiches to the frying pan (you can probably fit just 2 sandwiches at a time). Cook for 3 minutes on one side (or until that side is golden brown), then carefully flip the grilled cheese over and cook for 3 minutes on another side until golden brown.
Served the grilled cheese immediately while it's hot and crispy!
Recipe by
Melanie Cooks
at https://www.melaniecooks.com/bbq-chicken-grilled-cheese/11723/