Easy Chicken Caesar Salad Wraps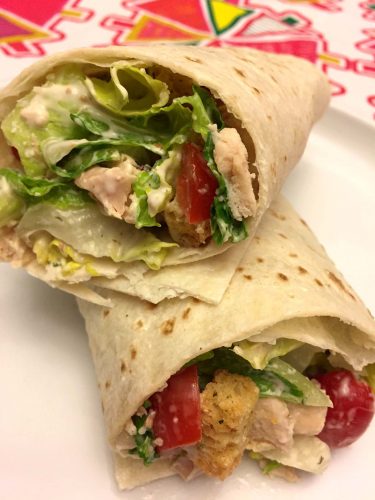 Recipe type:
Sandwiches,Wraps
4 cups romaine lettuce
1 pint cherry tomatoes, halved
4 cups cooked chopped chicken (from 1 Rotisserie chicken)
½ cup Caesar dressing
½ cup croutons
½ cup shredded Parmesan cheese
4 extra-large burrito-size tortillas
Put lettuce, cherry tomatoes, chicken, croutons, Parmesan cheese and Caesar dressing in a bowl and toss until combined.
Divide the Ceasar salad mixture between 4 tortillas, putting the mixture in the center of tortillas.
Wrap tortillas tightly burrito-style (first tucking in the ends, and then rolling into a roll).
Cut the chicken Ceasar wraps in half and enjoy!
Recipe by
Melanie Cooks
at https://www.melaniecooks.com/chicken-ceasar-salad-wraps/11153/