Coconut Date Truffles Energy Balls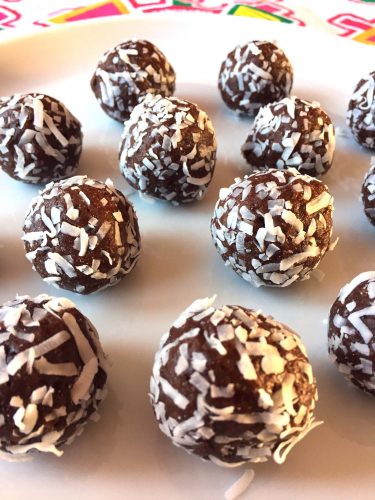 Recipe type:
Dessert,Snack
2 cups pitted dates
1 cup unsweetened coconut flakes
2 tbsp unsweetened cocoa powder
2 tbsp water
Put dates, water, cocoa powder and ½ cup of coconut flakes in a food processor fitted with the steel blade (reserve the remaining ½ cup of coconut flakes for coating the truffles).
Process for 1 minute. Scrape down the sides of the food processor. Process for 4 more minutes, or until the mixture forms into a ball. If it hasn't formed into ball or turned into a smooth paste, add more water 1 tbsp at a time and process some more until it does.
Put the remaining ½ cup of coconut flakes on a large plate.
Line another large plate with parchment paper.
Take 1 tbsp of date mixture from the food processor and roll with your hands into a ball. Put the ball on a plate with coconut flakes, and roll, pressing slightly, so it's coated with coconut flakes all over. Put the truffle on parchment paper. Repeat with remaining date mixture.
Recipe by
Melanie Cooks
at https://www.melaniecooks.com/coconut-date-truffles/11125/