Chocolate Chip Cookie Dough Truffles With No-Bake Edible Cookie Dough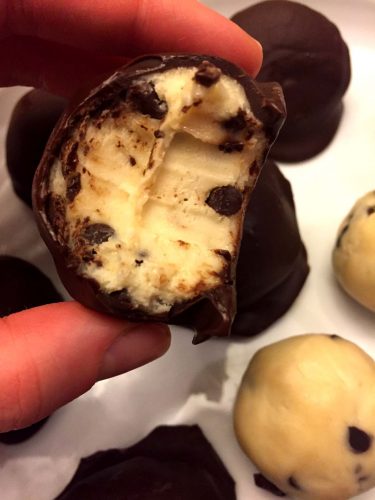 ½ cup (1 stick) butter, softened
½ cup powdered sugar
1 can (14 oz) sweetened condensed milk
1 tsp vanilla
2 cups flour
½ cup mini chocolate chips
10 oz dark chocolate
First, pasteurize the flour in a microwave so it's safe to eat. Prepare 2 microwave-safe bowls, and put 1 cup of flour into each bowl. Microwave each bowl (one at a time) for 1 minute.
Put butter and powdered sugar in a large bowl and mix with a mixer until well combined.
Add sweetened condensed milk and vanilla and mix until combined.
Add flour and mix until the dough is well combined and smooth.
Add the mini chocolate chips and stir with a spoon to incorporate them into the cookie dough.
Put the cookie dough in a refrigerator for 30 minutes, so it gets firm enough to roll into the truffles.
Line a large plate or a baking sheet (that fits in a freezer) with parchment paper.
Take the cookie dough out of the refrigerator.
Using a tablespoon, take the pieces of dough, and then roll them with your hands to make a ball.
Put the cookie dough balls onto parchment paper.
Freeze for 20 minutes.
Break the dark chocolate into small pieces and put them into a microwave-safe bowl.
Microwave the chocolate for 5 minutes on Defrost setting. Stir with a spoon.
If the chocolate is not fully melted, microwave more on Defrost setting in 1-minute increments and stir after each minute, until the chocolate is completely smooth and melted.
Line a baking sheet in parchment paper.
Put each truffle on a table spoon and lower the spoon into the melted chocolate. Turn the truffle with the spoon until it's fully coated with chocolate. Using the spoon, take out the chocolate-covered truffle and put on the parchment paper.
When all the truffles are dipped, put the baking sheet that holds them in a refrigerator. The chocolate coating will harden after 20 minutes in a refrigerator and the truffles will be ready to eat. Store the cookie dough truffles in a refrigerator.
Recipe by
Melanie Cooks
at https://www.melaniecooks.com/cookie-dough-truffles/10880/