Easy Apple Strudel Made With Puff Pastry Dough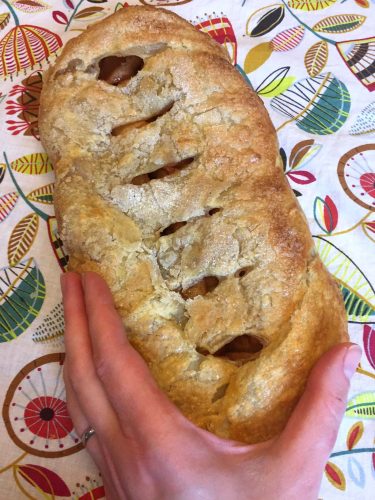 1 sheet frozen Puff Pastry dough, thawed
3 apples, peeled and sliced
1 tsp cinnamon
1 tbsp butter
¼ cup brown sugar
1 tbsp white sugar
1 egg
Preheat the oven to 400F.
Line a baking sheet with parchment paper.
Put the puff pastry sheet on a lightly floured surface and roll out to a rectangle of 13x10 inches.
Melt the butter in a frying pan. Add the apple slices, brown sugar and cinnamon. Cook, stirring every minute, for 5 minutes.
Put the apple filling in the center on top of the dough rectangle, leaving 2 inches of uncovered dough on the sides and 1 inch on top and bottom.
Lift the dough on the sides over the apples to make a roll. Pinch all the seams of the apple roll to seal.
Carefully lift the apple roll, flip it so the seam is down and transfer it to the baking sheet.
Whisk the egg in a small bowl. Brush the apple strudel with the egg.
Sprinkle the apple strudel with white sugar.
Cut several slits in the apple strudel top to allow steam to escape.
Put the apple strudel in the oven and bake for 20 minutes.
Recipe by
Melanie Cooks
at https://www.melaniecooks.com/apple-strudel-puff-pastry/10764/