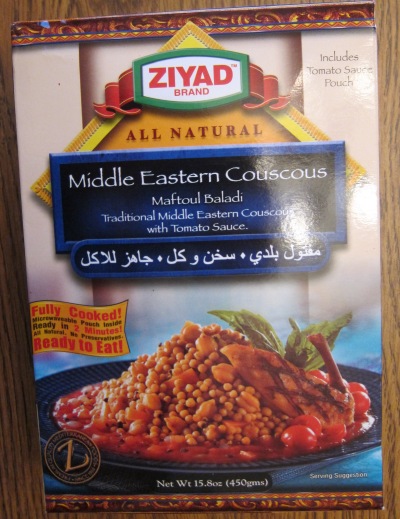 This packaged instant couscous is called "Maftoul Baladi" – a traditional middle eastern couscous with tomato sauce.  It's a pre-cooked boxed convenience meal that includes the couscous with chickpeas and spices and the tomato sauce pouch.
To heat up this tasty couscous, all you need to do is microwave it.  There are two microwaveable pouches inside the Ziyad couscous box: one pouch has the couscous, and the other one tomato sauce.  Cut off the tops of both pouches and stand the pouches upright, then first microwave the couscous pouch for 2 minutes, then remove it and microwave the tomato sauce pouch for 1 minute.  Put the couscous in the bowl, then pour the tomato sauce over it and mix.
I noticed that there was too much tomato sauce for the couscous – if all the tomato sauce is added, it will be more like a soup!  So if you want your couscous not to too much liquid, just pour half of the tomato sauce over couscous and save the other half for another use.
I was planning to serve this couscous as a side dish, but noticed that it's extremely filling!  Because this Maftoul Baladi dish has chickpeas, it has a lot of protein and really makes you full.  It can serve as a complete vegan main dish.
Here's some information from the package of this Ziyad couscous: "Maftoul or Pearl Couscous, is a larger version of couscous which is the primary staple food throughout the Middle East.  Maftoul is a grain product made by drizzling salted water onto coarsely ground hard durum wheat to form tiny balls of dough.  This is then dried.  Maftoul is nuttier than long-grain rice and thinstant variety cooks in far less time than most rice or pasta.  Maftoul/Middle Eastern Couscous can be the main course or served as an accompaniment to chicken, beef or fish".
Here's the nutritional information for this packaged Maftoul Baladi: serving size 1/2 pack, 320 calories, 10 g fat, 1 g saturated fat, zero trans fat, zero cholesterol, 470 mg sodium, 49 g total carb, 3 g fiber, 1 g sugar, 9 g protein, 4% vitamin A, 4% vitamin C, 6% calcium, 8% iron.  The ingredients are maftoul couscous, water, chick peas, carrots, oil, cumin, salt and black pepper, plus the tomato sauce.
I got this instant couscous package at Costco, and I'll be buying it again.  It's a great convenience meal to have in your pantry, and the great thing is that it's healthy too!
Here's the picture of the microwaveable pouches that are inside the package: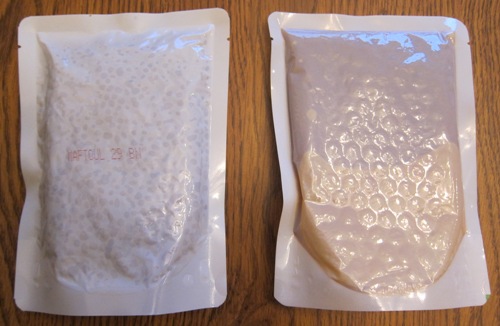 And here's the cooked Maftoul Baladi couscous, mixed with tomato sauce: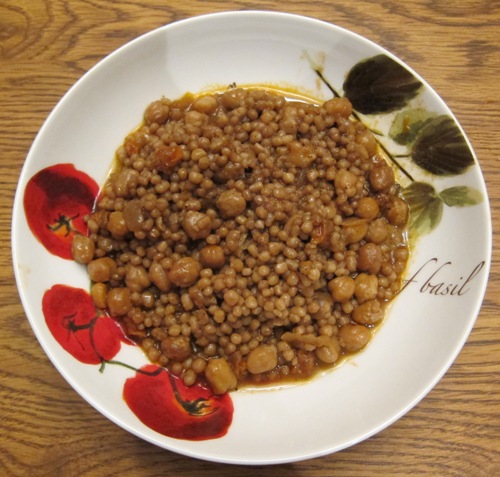 For more vegetarian convenience meals, you might be interested in Vegan Veggie Patties and Black Bean Burgers.
If you like Mediterranean food, see how to make hummus and how to make baba ganoush.
Get Melanie's FREE Recipes In Your Inbox!
http://www.melaniecooks.com/wp-content/uploads/2012/11/ziyad-couscous.jpg
519
400
Melanie Mendelson
http://www.melaniecooks.com/wp-content/uploads/2015/11/logo-new2.png
Melanie Mendelson
2012-12-26 07:36:45
2012-12-26 07:36:45
Ziyad Instant Microwaveable Middle Eastern Couscous - Maftoul Baladi