Yellow rice is made from the usual white rice.  Yellow rice side dish gets its yellow color from the spice turmeric. Yellow rice looks impressive, but it is extremely easy to make!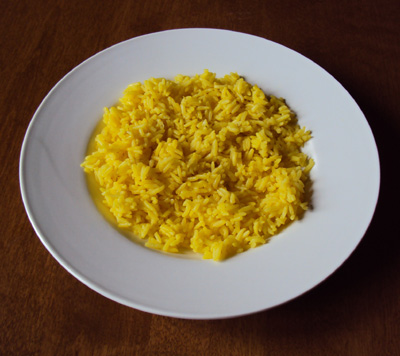 Ingredients For Yellow Rice Recipe:
2 cups of white rice
3 cups of water
1/2 tbsp vegetable oil
1/2 tsp turmeric
1/2 tsp salt
Directions On How To Make Yellow Rice In A Rice Cooker:
Put rice in a rice cooker.  Pour oil over it and sprinkle with turmeric.  Stir with a spoon until all the rice is yellow and coated with oil.
Add water.  Press the "Cook" button on the rice cooker.
Note: you don't have to use the rice cooker to make yellow rice.  You can use the conventional method of cooking rice on the stove.  Just coat the rice with oil and turmeric, add water and cook as usual :)