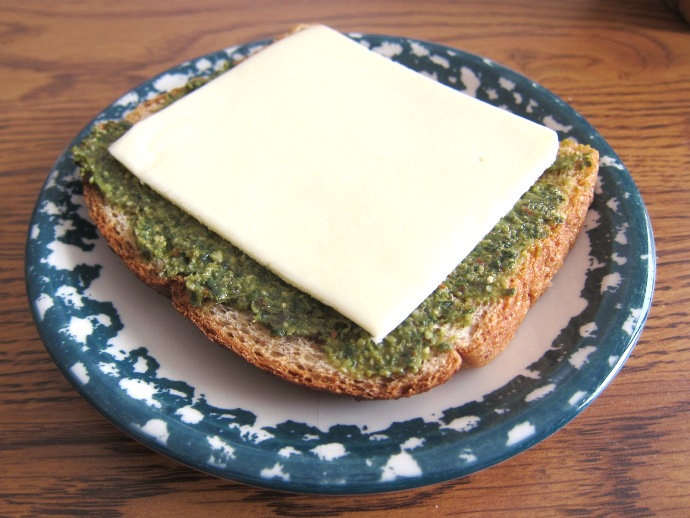 I love pesto – it's so flavorful that it turns any boring meal into something special!  Even something as mundane as piece of bread with cheese on top becomes an exciting meal for me when I have a jar of pesto in my fridge 🙂
My favorite kind of bread to eat with pesto is the whole wheat bread.   The white fluffy bread just seems too soft and week to stand with the pesto, the whole wheat one has much more personality 🙂 The hearty flavor of the whole wheat bread combined with the fresh and pungent pesto flavor brings out a whole new taste dimension – yum!
I use a simple pop-up toaster to toast the bread.  I put the bread in a toaster and it smells so good!  Then the bread pops out so warm and perfectly toasted – crispy on the outside and soft on the inside.  I quickly spread the warm toast with pesto, top with the cheese slice and take a bite.  Delicious!
Whole Wheat Toast With Pesto And Cheese
Ingredients
1 slice of whole wheat bread
1 slice of cheese
1 tbsp pesto
Instructions
Toast the bread in a toaster.
Spread the toast with pesto.
Top the toast with a slice of cheese.
This toast is such a simple and quick meal, and it's so tasty.  Two slices of this toast with pesto and cheese is enough for me for lunch!   I love sipping hot tea while eating this toast – yum!  Also, check out my recipe for homemade pesto.
http://www.melaniecooks.com/wp-content/uploads/2014/02/toast-pesto-cheese.jpg
518
690
Melanie Mendelson
http://www.melaniecooks.com/wp-content/uploads/2015/11/logo-new2.png
Melanie Mendelson
2014-02-28 07:47:01
2014-02-27 10:18:58
Whole Wheat Toast With Pesto And Cheese