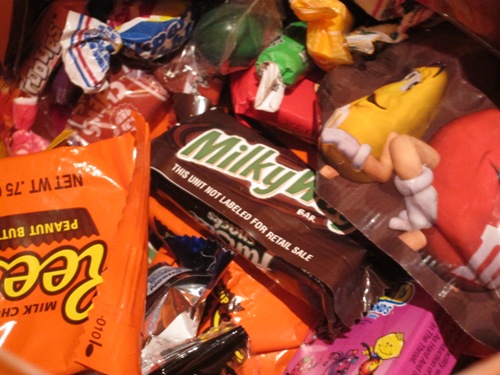 Do you have too much Halloween Candy at your house? Are you finding that you and your kids can't resist eating too many Halloween candies?  Here are the strategies that will allow you to gain control of the Halloween candies:
Make A Rule Of One Candy Per Day
This will work if your kids are small and you normally don't have "all you can eat" candy rules at your house.  Just put all the candy in a container on the top shelf, and designate a particular time of the day when everyone is allowed to take one candy.  In my house, the candy time is in the morning – the kids get their gummy vitamin and they also get to pick 1 candy each out of the plastic pumpkin.  Nobody argues because it's a routine – only 1 candy, and only in the morning.  If you can create and follow this rule, the abundance of candies is not even a problem.
Donate Halloween Candy
Do a Google search for Halloween candy donation in your city.  Many cities have programs to donate unopened Halloween candies.  You will support a good cause and get rid of your unwanted candies!
Sell Halloween Candy
If you can't convince your kids to give away their Halloween candy, they might get enticed with getting money for their candy 🙂  Many local dentists run "buy Halloween candies" programs.  Again, search Google for "buy Halloween candy" or "sell Halloween candy" in your city.  Save your waistline and your teeth and get paid for it!
Bake With Halloween Candy
You can use up a lot of Halloween candy at once by baking with it.  Just melt the chocolate candies and use them instead of chocolate in chocolate cake and brownies recipes.  Of chop the chocolate candies in the food processor and use in place of chocolate chips.  You can also grate the candies in the food processor and use them as a sprinkle on top of cakes and cookies.  Another idea is to melt the chocolate candies and use it as a fondue!
Here's a great recipe for using up your chocolate Halloween candy: Best Chocolate Truffle Cake Recipe.
Here's the picture of that Chocolate Truffle Cake: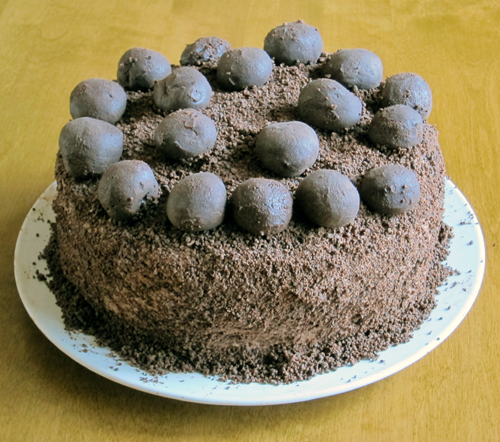 This cake uses a LOT of chocolate, and it's very very good!
http://www.melaniecooks.com/wp-content/uploads/2011/11/halloween-candy.jpg
375
500
Melanie Mendelson
http://www.melaniecooks.com/wp-content/uploads/2015/11/logo-new2.png
Melanie Mendelson
2013-11-01 07:15:32
2013-11-13 13:34:21
What To Do With Too Much Leftover Halloween Candy