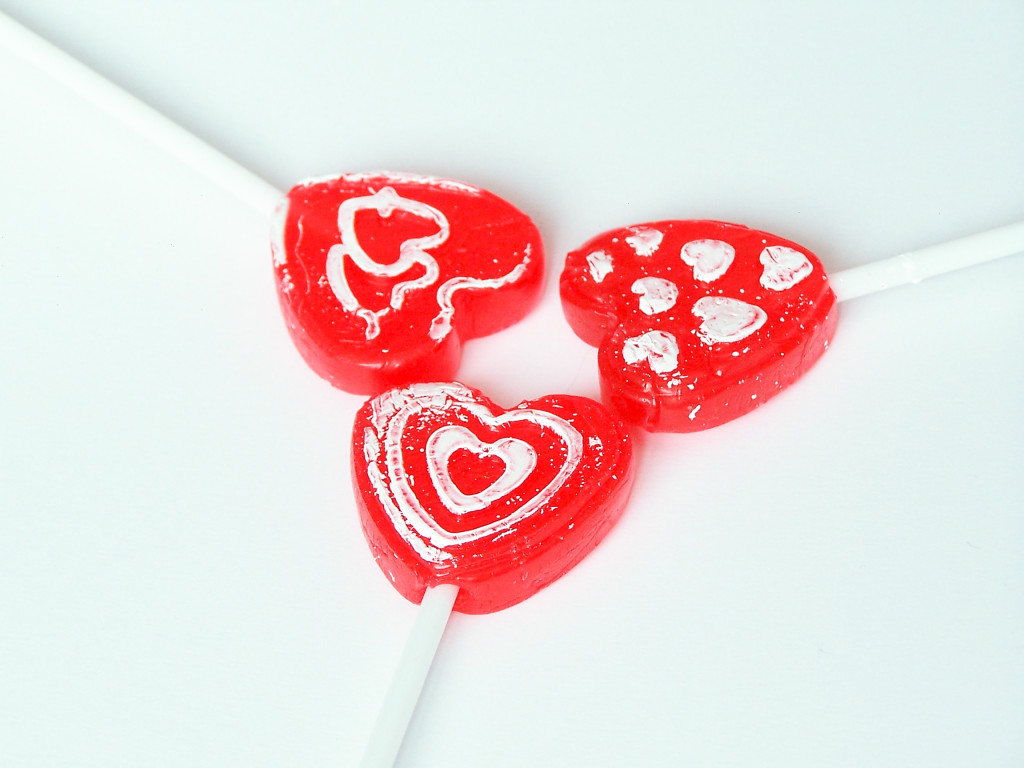 Want to surprise your sweetheart on Valentine's Day with a yummy dinner?  Here are some easy dinner menu ideas and recipes that are perfect for Valentine's Day.
To make your Valentine's Day dinner even more romantic, dress up the table with the red tablecloth, use heart-shaped dishes and light the candles.  Use these yummy recipes to make a delicious Valentine's Day dinner menu!
Valentine's Day Menu – Appetizer Ideas
Stuffed Mushrooms Recipe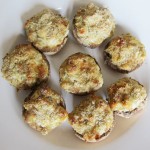 Stuffed mushrooms is such a popular appetizer because most people love them!  These tiny little morsels are so tasty, and you can make them yourself so easily – just use my proven stuffed mushrooms recipe.
Roasted Asparagus Recipe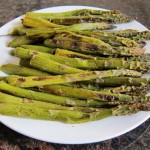 Asparagus is a known aphrodisiac, that's why asparagus recipes are so popular on Valentine's day!  Roasted asparagus looks very gourmet, and it's so easy to make – just toss the asparagus with a little olive oil and throw it in the oven.  Please see my roasted asparagus recipe for complete directions.
Salad Recipe With Candied Pecans, Cranberries And Oranges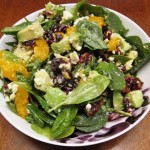 This is a very fancy green salad made with baby spinach, candied pecans, dried cranberries, avocado and orange slices.  It's a king of green salads and people love it!  Check out the salad recipe with candied pecans.
Valentine's Day Menu – Main Dish Ideas
Heart Shaped Pizza Recipe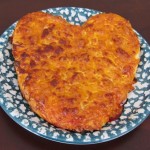 Heart-shaped pizza is a perfect main dish recipe for Valentine's Day!  It's so romantic to make a special heart-shaped pizza for your sweetheart!  Making a heart-shaped pizza yourself is very easy – just follow my heart shaped pizza recipe.
Sausage Jambalaya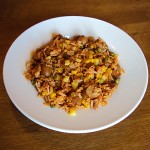 Sausage jambalaya is an easy one-dish meal that's very tasty.  It consists of rice, sausage pieces, vegetables and spices.  Check out my recipe for sausage jambalaya.
Pasta With Alfredo Sauce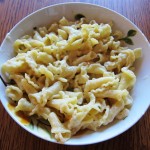 Pasta with alfredo sauce is a popular recipe that most people like, and it's extremely easy to make.  Homemade alfredo sauce only takes 5 minutes to make and is really impressive!  See my easy alfredo sauce recipe.
Valentine's Day Menu – Dessert Ideas
Chocolate Truffle Cake Recipe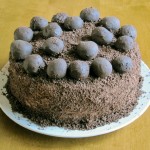 This chocolate truffle cake is the king of all cakes!  If you love chocolate, this will be the best chocolate cake you will ever try!  This gorgeous creation has layers of chocolate cake with chocolate cream, chocolate crumbs and homemade chocolate truffles on top – talk about impressive!  You too can make this cake by following my recipe for chocolate truffle cake.
Homemade Chocolate Truffles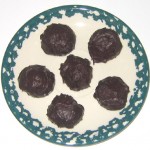 If you don't have the time to fuss with the chocolate truffle cake, just make the truffles – it's super easy!  Homemade chocolate truffles look very impressive, but they only need two ingredients (chocolate and heavy cream) and require less than 20 minutes of work!  To learn how to make chocolate truffles, see homemade chocolate truffles recipe.
Chocolate Brownies Recipe
This chocolate brownies recipe is very easy and makes the best chocolate brownies ever – so moist and chocolatey!  You can bake this chocolate brownie in a heart-shaped baking pan and you'll make a heart-shaped brownie – perfect for Valentine's Day!  See the recipe for best homemade chocolate brownies.
Lemon Bundt Cake Recipe
If you want to take a break from the customary chocolate for Valentine's day, make a lemon cake!  This lemon bundt cake recipe is super easy – you just mix the ingredients and bake for 35 minutes.  This lemon cake has a great citrus smell and flavor – how refreshing!  Check out the recipe for lemon bundt cake.
Have a wonderful Valentine's Day!
http://www.melaniecooks.com/wp-content/uploads/2013/02/valentine-hearts.jpg
1728
2304
Melanie Mendelson
http://www.melaniecooks.com/wp-content/uploads/2015/11/logo-new2.png
Melanie Mendelson
2014-02-12 14:27:52
2014-02-12 14:35:00
Valentine's Day Dinner Recipes And Menu Ideas