Are you hosting a Thanksgiving dinner and feeling overwhelmed with all the planning?  My Thanksgiving menu is easy enough to pull off even for a beginner cook.  These Thanksgiving recipes are very simple and are truly foolproof.  Using my Thanksgiving menu, you will have traditional Thanksgiving favorite foods, all made easy by your truly 🙂 These Thanksgiving recipes are all proven and tested, I made them on Thanksgiving last year and will make them again and again!
Thanksgiving Menu Recipes
Thanksgiving Menu Appetizer Recipes

Stuffed mushrooms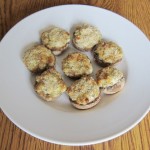 Stuffed mushrooms is a very popular appetizer, and for a reason – they are so yummy!  These bite-sized tasty morsels will disappear off your Thanksgiving table really fast!  These easy stuffed mushrooms are filled with a garlicky cream cheese and green onion and baked until piping hot.  See my easy stuffed mushrooms appetizer recipe.
Baby Spinach Salad With Candied Pecans And Dried Cranberries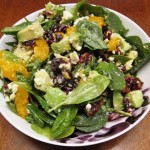 This gorgeous salad with candied pecans and dried cranberries is perfect for a Thanksgiving dinner!  This festive salad is made with baby spinach, feta cheese, orange segments, avocado pieces, dried cranberries, candied pecans and dressed with olive oil and vinegar.  See my holiday salad recipe with candied pecans and cranberries.
Thanksgiving Menu Main Course Recipe
Easy Thanksgiving Turkey In A Brown Bag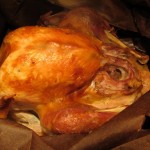 This Thanksgiving turkey recipe makes the best Thanksgiving turkey I've ever tasted!  Best of all, it is super easy – put the turkey in the oven and forget about it until it's done – no basting needed!  This Thanksgiving turkey recipe is the easiest recipe ever, and once you'll try it, you will not make Thanksgiving turkey any other way.  The secret to this easy foolproof Thanksgiving turkey is that the turkey is baked inside the brown paper grocery bag!  I know you are wondering if the bag can burn, but be assured the bag doesn't catch on fire 🙂  The turkey baked in a paper bag is very moist, the meat literally falls off the bone, and the skin is beautifully browned!  Check out my recipe how to make the best Thanksgiving turkey.
Thanksgiving Menu Side Dish Recipes
Easy Make Ahead Turkey Gravy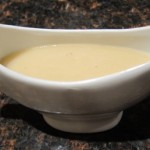 Making gravy sounds intimidating, but don't worry – like all my other Thanksgiving recipes, this gravy recipe is super easy.  A great thing about this gravy is that is made ahead!  There is no need to scramble to make the gravy at the last minute while all the guests are waiting.  This yummy Thanksgiving gravy recipe can be made several days ahead and refrigerated.  When the Thanksgiving turkey is ready, you just heat the gravy in the microwave and serve with the turkey!  Also, this method of making the gravy creates the gravy with no lumps!  Check out my recipe for easy homemade turkey gravy.
Make Ahead Mashed Potatoes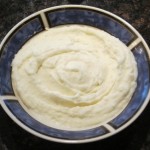 Normally mashed potatoes don't reheat well, but this recipe is different.  This mashed potatoes recipe is designed to be made ahead, and it tastes just as good reheated as it did when it was just made.  You can make these mashed potatoes the day or two before Thanksgiving, then reheat them before the Thanksgiving dinner and keep them warm in a crockpot!  Go to my easy make ahead mashed potatoes recipe.
Roasted Sweet Potatoes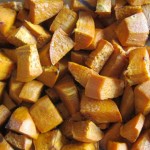 Here's the alternative potato side dish – roasted sweet potatoes.  These yummy sweet potatoes are cut into pieces, tossed with olive oil and roasted in the oven.  Roasting brings out such great flavor out of sweet potatoes! For Thanksgiving, I would make either the make-ahead mashed potatoes or the roasted sweet potatoes as a side dish.  If making roasted sweet potatoes, you can make them ahead, then reheat them and keep them warm in the crockpot (since the oven will be taken up by the turkey, make the sweet potatoes before).  See my oven roasted sweet potatoes recipe.
Easy Cornbread Stuffing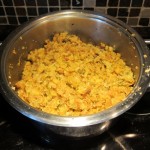 I make Thanksgiving stuffing in the easiest way possible – separately from the turkey, using the packaged cornbread stuffing mix.  The reason why I don't like to put stuffing inside the turkey is that it throws off the cooking time for the turkey – the turkey has to stay in the oven longer so the stuffing cooks through, and then the turkey ends up overcooked.  Making the stuffing outside the turkey solves this problem.  See my page about Thanksgiving cornbread stuffing.
Thanksgiving Menu Dessert Recipes
Classic American Apple Pie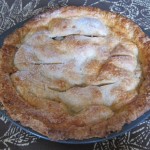 Apples are in season in the fall, and this homemade classic American apple pie is perfect for Thanksgiving!  Everyone loves this apple pie with the tender and flaky crust and the sweet apple filling.  See my easy recipe for homemade apple pie.
Pumpkin Cheesecake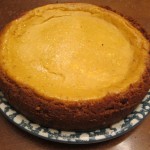 Pumpkin cheesecake is my favorite Thanksgiving dessert.  Even if you never made cheesecake before, try it out – this cheesecake recipe is easy to make and turns out very yummy!  See my easy homemade pumpkin cheesecake recipe.
Hope you enjoy my Thanksgiving menu and recipes!  Have a wonderful Thanksgiving!
http://www.melaniecooks.com/wp-content/uploads/2011/11/turkey-brown-bag-ready.jpg
384
500
Melanie Mendelson
http://www.melaniecooks.com/wp-content/uploads/2015/11/logo-new2.png
Melanie Mendelson
2012-11-09 13:04:07
2013-03-05 14:21:10
Thanksgiving Dinner Menu Food Ideas