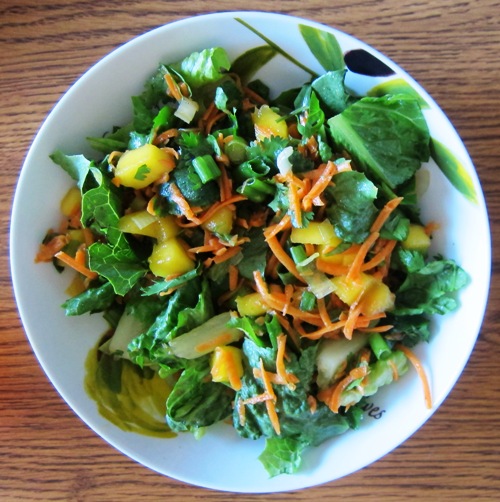 This Thai mango green salad is so refreshing!  It has chopped mango, lettuce, green onions, carrots and cilantro, dressed with a sweet Thai dressing.  The flavor of this salad is so unique, and the unusual ingredients go so perfectly together!
If you want to impress your family and friends with a fancy side salad, make this Thai mango salad.  It's easy to make, yet so elegant, and the taste is divine!
This Thai salad is so colorful and super healthy – full of vitamins and anti-antioxidants.  Healthy and tasty – that's a real winner!
Thai Mango Salad Recipe With Carrots And Greens
Ingredients
1 package of lettuce
1 mango, peeled and diced
2 carrots, peeled and shredded
1/2 bunch cilantro, chopped
4 green onions, chopped
Juice of 1 lime
1 tbsp brown sugar
1 tbsp soy sauce
1 tbsp olive oil
Instructions
Make a dressing by mixing lime juice, brown sugar, soy sauce and olive oil.
Mix lettuce leaves, diced mango, shredded carrot, chopped cilantro and chopped green onions.
Pour the dressing over the salad and toss.
Please do not use bottled lime juice – use the fresh lime only!  There is a huge difference in taste between bottled lime juice and freshly squeezed.  Squeezing a lime is easy – just cut into quarters and squeeze with your thumb and index finger over a cup.
Enjoy this yummy Thai mango salad!  For a main dish version of this delicious salad, see how to make Thai chicken salad – it makes an outstanding lunch 🙂
For more great recipes with mango, see simple mild mango salsa recipe and step by step instructions how to make mango salsa.   Also, see how to tell if a mango is ripe and how to cut a mango.
http://www.melaniecooks.com/wp-content/uploads/2013/07/thai-mango-salad.jpg
502
500
Melanie Mendelson
http://www.melaniecooks.com/wp-content/uploads/2015/11/logo-new2.png
Melanie Mendelson
2013-09-11 07:42:21
2013-09-09 13:20:49
Thai Mango Salad Recipe With Carrots And Greens