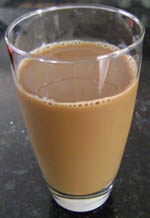 Frightened by the amount of sugar in the regular ice coffee latte recipe? Here's the sugar-free version of the iced coffee latte.
Instead of sugar, use Splenda – buy the kind in a large package labeled "for baking".
Ingredients For Sugar-Free Iced Coffee Latte:
10 cups of brewed coffee
10 tbsp of Splenda (sugar substitute)
3 cups of milk
Directions How To Make Sugar-Free Iced Coffee Latte:
Pour brewed coffee in a pitcher.  Add Splenda and stir to dissolve.  Add milk and stir.  Put the pitcher in the regrigerator and chill until cold.
Your sugarfree iced coffee latte is only as good as the coffee you make.  To make great coffee, follow the advice in the following article: How To Brew Good Coffee At Home