Stir Crazy Restaurant in Northbrook is located inside the Northbrook Court Mall.  Despite it being a chain restaurant in such a commercialized location, their food is surprisingly good! I like to eat at Stir Crazy Restaurant.  I've eaten at Stir Crazy many times and keep coming back.
Stir Crazy Restaurant features contemporary Asian cuisine.  There are Chinese dishes like Sweet & Sour Chicken and Mongolian Beef, Thai dishes like Pad Thai and Japanese dishes like Chicken Teryaki.  Surprisingly, Stir Crazy does all those different kids of dishes really well! Believe it or not, it's just as good or better than average ethnic restaurant.  For example, the pad thai at Stir Crazy is better than pad thai in most Thai joints.
Here are the entrees that I've tried at Stir Crazy restaurant: pad thai, sweet & spicy chicken, sweet & sour chicken, mongolian beef, fried rice – they were all good.  For the appetizers, I tried egg rolls, crab rangoon, fried calamari and ahi tuna & avocado poke.  Ahi Tuna And Avocado Poke is my favorite appetizer at Stir Crazy.  It is a very fancy appetizer – 3 round crisps stacked into a tower, with each crisp layered with chopped raw ahi tuna and chopped avocado and onion.  When ordering Ahi Tuna And Avocado Poke, I ask for the sauces on the side – I prefer to control the amount of sauce that goes on the tuna, otherwise it's too salty.   Ahi Tuna And Avocado Poke looks beautiful and tastes as good as it looks.  Try it – you'll get addicted!
I normally don't get dessert in Asian restaurants, but once I got a complimentary dessert at Stir Crazy and it was great.  It was banana wontons – crispy wontons with a filling of chopped fried bananas and melted white chocolate.  The wontons had vanilla ice cream on the side.  As weird as this dessert sounds, it tastes delicious.  Warm crisps with sweet bananas and white chocolate sauce is a perfect ending for a nice meal!
If you go to Stir Crazy for lunch, check out their lunch choices for $8.88.  It's a smaller-sized portions of the dinner favorites (like mongolian beef).  Well, they are not small – they are just right.  Who can finish the whole portion of the Chinese entree? :) Well, the lunch portion is the size for 1 person (not 2), and it's more than enough. Stir Crazy restaurant has great food at great prices.
Stir Crazy also has a great children's menu.  Here's what's on Stir Crazy kids' menu: ninja noodles (chicken and vegetables in a sweet brown sauce tossed with lo-mein noodles), shogun fried rice (fried rice loaded with chicken, vegetables and special seasoning), samurai chicken tenders (crispy white meat chicken strips with special sweet and source sauce, served with french fries or steamed broccoli and carrots), Godzilla burger (a big grilled burger served on a bun with french fries or steamed broccoli and carrots), crazy chicken dumplings (deep fried dumplings filled with chicken and served with a sweet and source sauce and french fries or steamed broccoli and carrots), sweet and sour chicken (crisply chicken with carrots, green beans, broccoli and pineapple in a sweet and tangy sauce), grilled cheese (served with french fries or steamed vegetables), small fry (a trip to the market bar with your choice of beef, chicken or veggie stir-fry).  All kids' menu items are $6.  Also, check with your location of Stir Crazy to see if they offer "kids eat free" promotions.  The Northbrook location of Stir Crazy has "kids eat free" days every Tuesday and Thursday!
Here are some pictures of Stir Crazy food -
Stir Crazy edamame: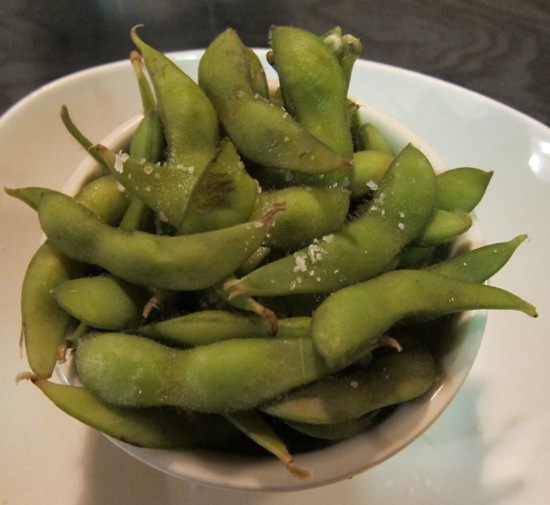 Stir Crazy hot and sour soup:
Stir Crazy Ahi Tuna And Avocado Poke: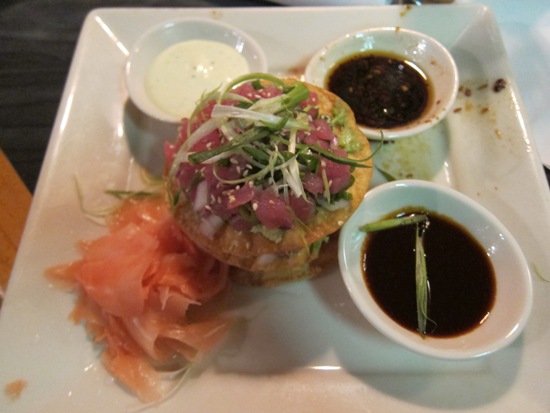 Stir Crazy Grilled Cheese From The Kids Menu:
Stir Crazy Chicken Dumplings From The Kids Menu: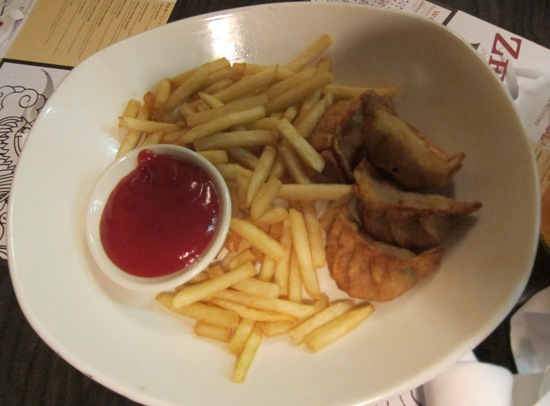 Stir Crazy Salmon Mango Salad: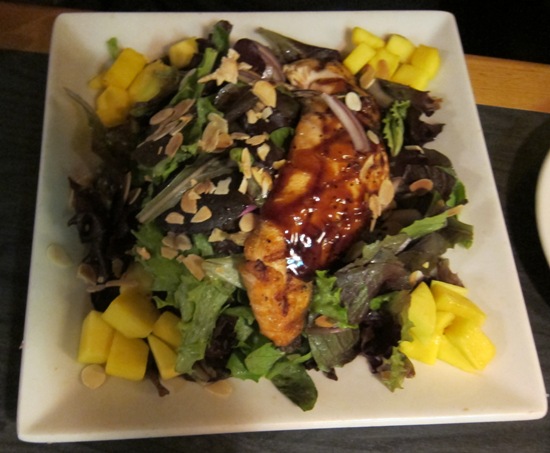 Stir Crazy Ice Cream: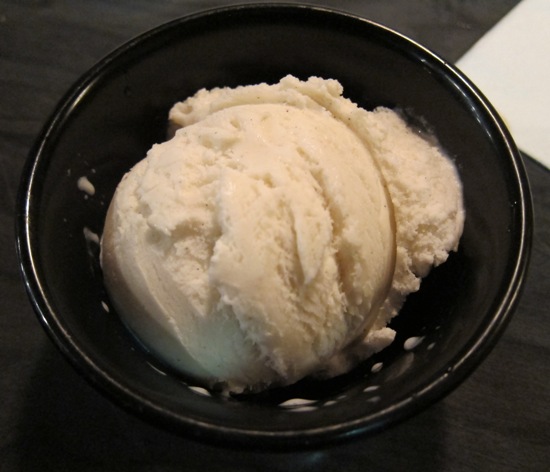 Stir Crazy Restaurant is located inside of the Northbrook Court mall, on the lower level close to Neiman Marcus.  Their address is 1186 Northbrook Ct., Northbrook, IL 60062.  Stir Crazy Restaurant phone number is (847) 562-4800