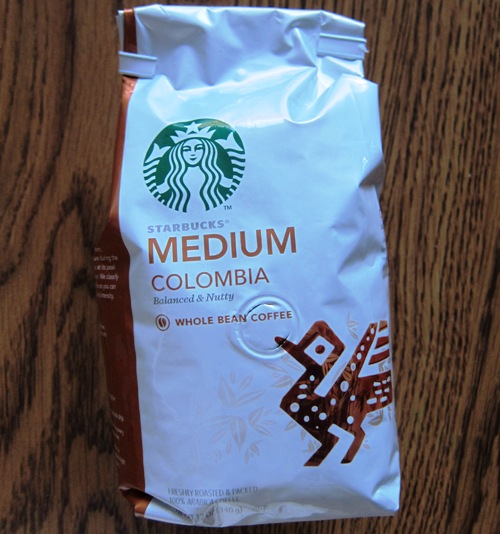 When you make coffee at home, great coffee always starts with great coffee beans.  Starbucks Colombia whole bean coffee is sold in the Starbucks locations and all major grocery stores, and these beans make very good tasting coffee.
Starbucks Colombia coffee is medium roast, which is my favorite kind of roast.  While dark roast tends to be bitter and a light roast can be a little bland, medium roast is just right.  The package describes Starbucks Colombia coffee as balanced and nutty, and it's a perfect description for this tasty coffee.
Here's some more information about Starbucks Colombia coffee from its package: "Growing on some of the highest coffee farms in the majestic Andes mountain range gives this coffee remarkable balance.  It's medium-bodied and rich with juicy undertones and a crisp, nutty finish."
Also, if you buy a bag of Starbucks coffee beans, you can bring the empty bag to Starbucks and get a free tall cup of Starbucks coffee!  The bag is your coupon – just look on the back of the package, it says "Bring us your empty bag, we'll give you coffee.  When this bag is out of coffee, exchnage it for a tall brewed coffee (12 fl oz), on us".  I have actually been doing it – I buy a lot of Starbucks packaged coffee beans to brew coffee at home, and I bring the empty bags to Starbucks, and they give me free coffee in exchange for the bag.  I never got any weird stares when I bring the bag to Starbucks – they just cheerfully give me a tall coffee 🙂
Another great Starbucks packaged coffee beans I recommend to try is the Starbucks House Blend whole bean coffee.
Here's the picture of Starbucks Colombia coffee beans inside the package: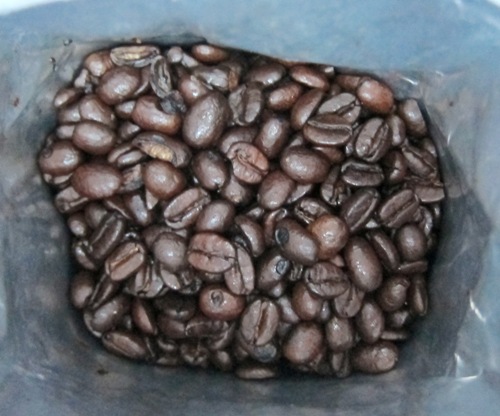 http://www.melaniecooks.com/wp-content/uploads/2013/02/coffee-starbucks-colombia.jpg
534
500
Melanie Mendelson
http://www.melaniecooks.com/wp-content/uploads/2015/11/logo-new2.png
Melanie Mendelson
2013-02-16 07:43:54
2013-02-16 07:44:45
Starbucks Colombia Medium Roast Whole Bean Coffee