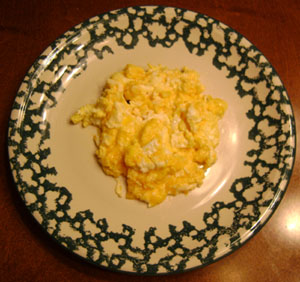 Here's how to make moist and tender scrambled eggs:
Drizzle the non-stick frying pan with oil and turn on the heat to medium-high
Crack the eggs onto a frying pan and sprinkle with a handful of shredded cheese
Reduce heat to medium
Stir the eggs with a spatula, and keep stirring until almost set
The moment the eggs are almost set, remove the scrambled eggs from the frying pan into a plate
Don't overcook the eggs!  If you keep them in a frying pan until fully set, they will be tough.  If you want moist and tender scrambled eggs, the key is removing them from the pan when they are almost set - they will finish cooking on the plate (from the residual heat).