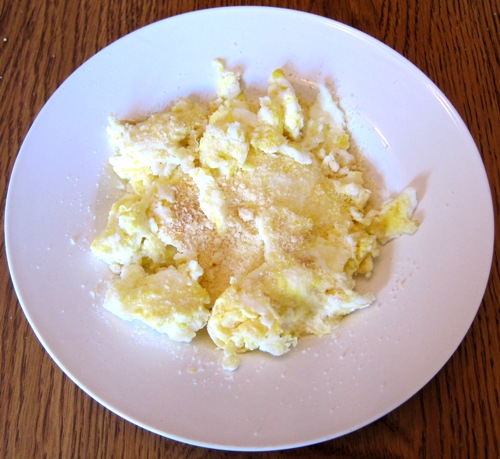 I often make scrambled eggs with cheese for a quick breakfast, lunch or even dinner.  The eggs are always available in the refrigerator, and making scrambled eggs takes literally 2 minutes from start to finish – it's a perfect instant recipe!
Even though Parmesan cheese is not a typical cheese to add to scrambled eggs, it's super tasty!  Usually people added cheddar cheese to their eggs, but go ahead and try Parmesan.  Parmesan cheese transforms boring eggs into something zesty.  If you like the taste of Parmesan cheese, you will love scrambled eggs with Parmesan!  I put Parmesan cheese inside the scrambled eggs, and also sprinkle it on top of the eggs once they are on a plate.  Since the Parmesan cheese can be salty, I don't add salt to the eggs.  Taste the scrambled eggs once they are done, and add salt if needed.  It's always better to undersalt then to oversalt 🙂
You can use any kind of Parmesan cheese to add to scrambled eggs.  My favorite one is the fancy shredded Costco Parmesan cheese, which is actually Parmiggiano Reggiano.  But I also successfully used the cheap grated Parmesan in green bottle – in fact, that's the Parmesan that's sprinkled on top of the scrambled eggs on the photo on top of this page.
Scrambled Eggs Recipe With Parmesan Cheese
Ingredients
3 eggs
1 tbsp milk
4 tbsp shredded or grated Parmesan cheese
1 tsp oil
Salt and pepper to taste
Instructions How To Make Scrambed Eggs With Parmesan Cheese
Heat the oil in a small non-stick frying pan over medium high heat.
Crack the eggs into a bowl, add the milk and 3 tbsp Parmesan cheese and whisk with the fork.
Add the egg mixture to the frying pan. Cook, stirring, for 1 minute or until the eggs are set.
Remove to a plate and sprinkle with remaining 1 tbsp of Parmesan.
Taste for salt – if you think it needs more salt, sprinkle with salt and pepper to taste.
Enjoy these yummy scrambled eggs!  For another yummy egg dish, check out feta cheese omelette recipe.
http://www.melaniecooks.com/wp-content/uploads/2012/10/eggs-parmesan-cheese.jpg
459
500
Melanie Mendelson
http://www.melaniecooks.com/wp-content/uploads/2015/11/logo-new2.png
Melanie Mendelson
2012-10-22 06:46:35
2012-10-19 11:08:09
Scrambled Eggs Recipe With Parmesan Cheese