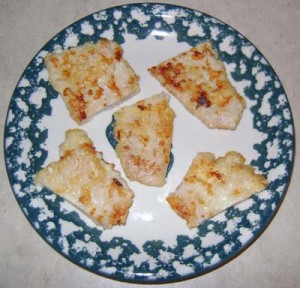 Ingredients:
1 lb turkey breast cutlets
1 egg
1/2 cup flour
3/4 tsp salt
1/4 tsp pepper
1 tbsp oil
Directions:
If the turkey cutlets are too big, cut them into smaller pieces.  Sprinkle turkey cutlets with salt and pepper on both sides.
Whisk the egg in a bowl.  Put the flour on a large plate.
Heat the oil in a large non-stick frying pan over medium-high heat (I like to use 2 frying pans at once to save time).
Dip each turkey cutlet in the egg, then dip into flour on each side, then put on a frying pan.
Cook turkey cutlets for 4 minutes on 1 side, then flip them and cook for 4 minutes on the other side (or until no longer pink inside).
These turkey cutlets go great with cranberry sauce!