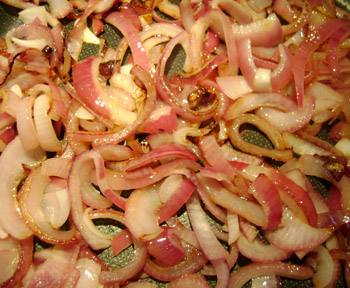 Many recipes start with frying onions and then adding other ingredients, but if you really like sauteed onions, you can make it as a stand-alone side dish!   If you are always sneaking the onions from the frying pan, this recipe is for you :)
Ingredients For Fried Red Onions:
Red onions
Oil
Salt to taste
Directions For Fried Red Onions:
Slice red onions. Heat the oil in a non-stick frying pan over medium-high heat.  Add red onion slices and stir.  Reduce heat to medium, and fry the red onions, stirring periodically, for 10 minutes, or until desired doneness.  Add salt to taste.