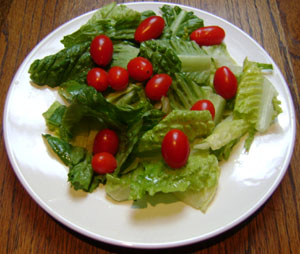 This is a very simple salad that can be put together in less then 5 minutes, especially if you are using packaged lettuce leaves.  You can make this salad with any kind of lettuce – the picture above shows romaine lettuce.
Ingredients For The Salad:
Lettuce
Cherry tomatoes
Olive oil
Vinegar or lemon juice
Salt and pepper to taste
Directions How To Make A Salad:
In a cup, whisk olive oil and lemon juice (3 parts of oil to 1 part of vinegar) – this is the dressing for the salad.
Put lettuce leaves on a plate, drizzle with the dressing and toss.
Put cherry tomatoes on top.
Sprinkle with salt and pepper.