Small potatoes (a.k.a. "baby potatoes" & "new potatoes") are about 1.5 inches in diameter.  Small potatoes are very easy to prepare, since you don't have to peel them!  The skin of small new potatoes is very thin and edible.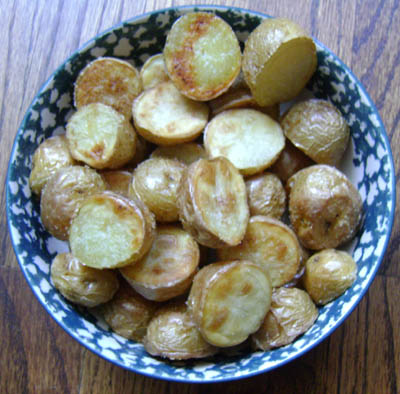 Roasted Small New Potatoes Recipe Ingredients:
A bag of small potatoes
Olive oil
Salt and pepper to taste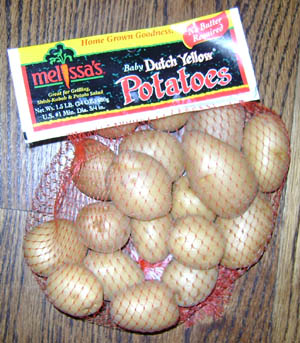 Roasted Small New Potatoes Recipe Directions:
Preheat oven to 400F.
Wash the small new potatoes and cut them in halves.  Put the small potato halves in a bowl.  Pour 1 tbsp of oil to potatoes.  Coat the new potatoes with oil by moving the potato pieces with your hands.  If needed, add more oil, so all the new potato pieces look shiny and coated with oil.
Line the baking sheet with parchment paper.  Put the new potato pieces on a baking sheet.  Sprinkle with salt and pepper.
Put in the oven and cook for 40 minutes or until the new potatoes are done.  Add more salt to taste if needed.