Roasted broccoli is my favorite way of cooking broccoli.  Roasting the broccoli brings out the best flavor in this vegetable.  Even broccoli haters often gobble up roasted broccoli.
There are 3 things that make roasted broccoli so flavorful:
1) Roasting itself
2) Extra-virgin olive oil
3) Salt
Ingredients For Roasted Broccoli Recipe:
1 head of broccoli
1 tbsp extra-virgin olive oil
Salt and pepper to taste
Directions How To Make Roasted Broccoli:
Preheat oven to 425F.   Line the baking sheet with parchment paper.
Cut broccoli into florets.  Put broccoli florets in a bowl and drizzle with olive oil.  Mix everything with your hands so the broccoli is coated with oil.
Put the broccoli on a baking sheet.  Put it in the oven and cook for 20 minutes.
Remove from the oven and sprinkle with salt and pepper.
More pictures of roasted broccoli: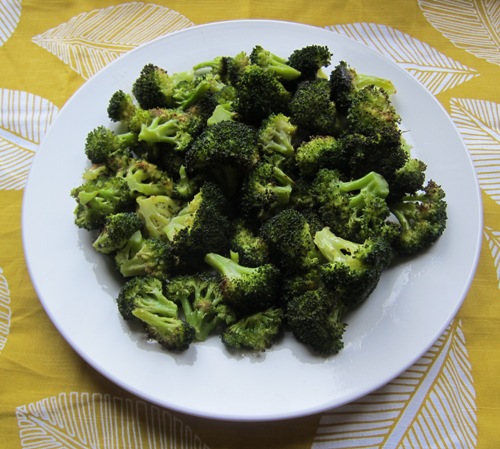 Here's the broccoli roasted on foil (I ran out of parchment paper, so I had to use foil instead):