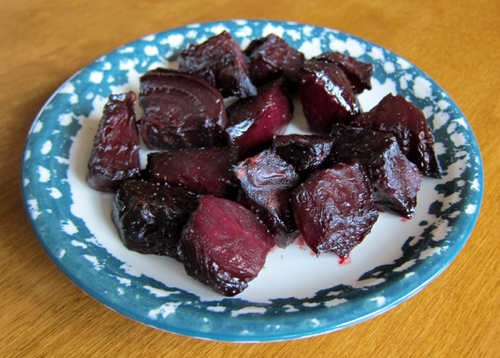 Do you usually not eat beets?  Were you traumatized by trying the beet rounds from the can?  Do you wonder who on Earth buys beets at the grocery section?  If that's the case, you haven't tried roasted beets!
Roasting is the best way to bring out flavor in most vegetables, including beets.  Roasted beets have a deep flavor with a hint of sweetness.  Roast beets go perfectly as a side dish or a vegetable accompaniment with your dinner.
Ingredients For Roasted Beets
6 medium beets
1 tbsp olive oil
Salt and pepper to taste
Directions How To Make Roasted Beets
Before roasting the beets, you need to peel them and cut them into pieces.  Uncooked beets are very hard, so peeling and cutting them is quite difficult.  This was the reason why I didn't roast the beets very often – until I discovered the trick on getting them peeled and cut without much effort!  Here's how you do it: microwave the whole beets to soften them, then peel and cut.
To microwave the beets, wrap each beet in a paper towel.  Put them in a microwave and cook on high for 10 minutes.  Remove the beets from a microwave and let cool for 10 minutes.
Preheat the oven to 425F.  Line the baking sheet with parchment paper.
Peel the microwaved beets and cut into quarters, then cut each quarter in half.  Put in a bowl, pour olive oil over beets, then with your hands distribute the oil all over the beets.
Put the beets on the baking sheet.  Put in the oven and bake for 40 minutes.  Remove from the oven and sprinkle with salt and pepper to taste.
Let roasted beets cool.  Roasted beets taste better cold than warm.
Enjoy your roasted beets!