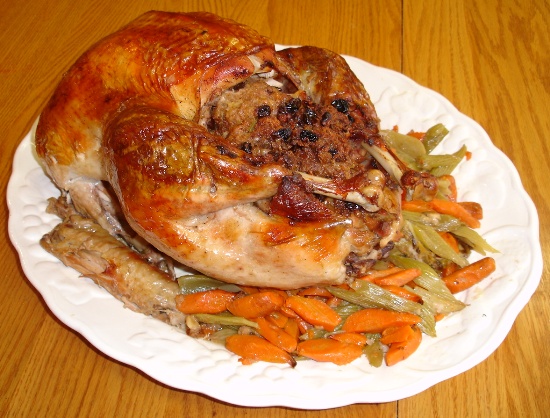 Are you trying to figure out what to do with leftover Thanksgiving turkey?  Don't want to eat the same turkey breast meat day after day? Here are some tasty recipes to help you use up that holiday turkey!
I'm sure after Thanksgiving you don't feel like cooking anything complicated, so I made these recipes super easy 🙂  With these 4 completely different recipes that use cooked turkey, you will eat up your leftover turkey without getting tired of it!
Turkey Salad Sandwiches Recipe
Ingredients: Leftover turkey, 4 hard-boiled eggs, 1 small onion, 1 cup mayo, bread slices
Directions: Chop up the turkey meat into 1/4 inch cubes.  Dice the boiled eggs.  Chop the onion into very small pieces.  Mix the chopped turkey, eggs, onion and mayo to make a turkey salad.  Spread the turkey salad on a slice of bread and top with another bread slice to make a turkey salad sandwich.
Turkey Vegetable Stir Fry Recipe
Ingredients: Leftover turkey, a bag of frozen stir-fry vegetables, oil
Directions: Cut the turkey meat into pieces.  Heat 1 tbsp of oil in a non-stick frying pan.  Add the frozen vegetables and cook, stirring occasionally, until they are thawed and cooked (about 5 minutes).  Add salt, pepper and your favorite spices to taste.  Add the turkey pieces to the frying pan and mix with vegetables.  Cook, stirring periodically, until the turkey is heated through (about 2 minutes).  You can also mix it with cooked rice (use your rice cooker) for a perfect one-dish meal.
BBQ Turkey Sloppy Joes Recipe
Ingredients: Leftover turkey, 1 cup bottled BBQ sauce, sandwich rolls
Directions: Shred the turkey meat in a food processor fitted with the top slicer disk (see directions for perfect shredded meat in a food processor).  Mix the shredded turkey with the BBQ sauce.  Heat the turkey mixture in a microwave until hot and put on the sandwich rolls to make yummy Turkey Sloppy Joes.
Turkey Pasta Bake Recipe
Ingredients: Leftover turkey, 1 lb pasta (shells, wheels or spiral shapes), 1 jar pasta sauce, 1 package (8 oz) shredded cheese
Directions: Preheat the oven to 375F. Cook the pasta according to package directions. Meanwhile, chop the leftover turkey into pieces. In a 8×13 non-stick baking dish, mixed cooked pasta, turkey pieces, pasta sauce and cheese.  Put in the oven and bake for 30 minutes.
Hope you've had a wonderful Thanksgiving!  Enjoy these yummy recipes and use up all that leftover turkey from the Thanksgiving feast 🙂
http://www.melaniecooks.com/wp-content/uploads/2013/11/thanksgiving-turkey.jpg
418
550
Melanie Mendelson
http://www.melaniecooks.com/wp-content/uploads/2015/11/logo-new2.png
Melanie Mendelson
2013-11-27 07:27:03
2015-12-02 16:55:19
What To Do With Leftover Thanksgiving Turkey - Easy Recipes!