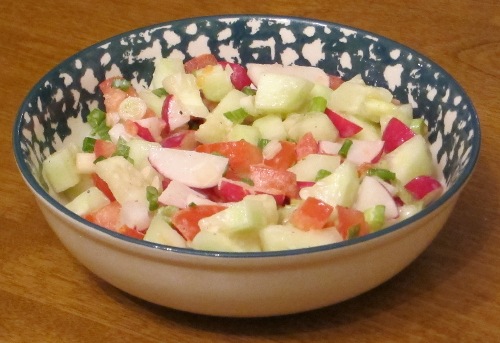 If you don't eat radish very often, here's the salad recipe for you that uses radish.  In this salad, chopped radish, chopped tomatoes, chopped cucumbers and chopped green onions are combined into a healthy yummy salad.  Radish is a surprise ingredient that makes this salad stand out.  Radishes give this salad a great crunch, green onions give it a spice, and chopped tomatoes and cucumbers provide a common salad base that ties this salad together.
Ingredients For The Radish, Tomato, Cucumber And Green Onion Salad:
6 radishes, chopped
1 large tomato, chopped
1 medium cucumber, chopped
3 green onions, chopped
1/2 tbsp olive oil
1/2 tsp vinegar
Salt and pepper to taste
Directions How To Make The Salad With Radishes, Tomatoes, Cucumbers and Green Onions
Chop the radishes, tomatoes and cucumbers.  Chop the green onions into small pieces.
Whisk together oil and vinegar.  Put all chopped vegetables in a bowl and drizzle with oil and vinegar dressing.  Add salt and pepper to taste.  Mix until everything is combined.
Note: instead of using oil and vinegar dressing, you can use 1 tbsp of mayo or 1 tbsp of yogurt.  Mayo or yogurt dressing also taste great with this crunchy radish salad.
Radish, tomato, cucumber and onion salad is very addictive.  Enjoy eating this healthy tasty salad with your yummy meals!
Here's a closeup picture of the radish salad: