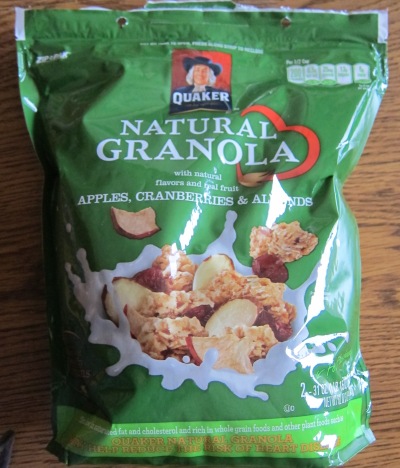 Quaker is best known for Quaker Oatmeal, and they also make a great granola.  Quaker Natural Granola is a tasty granola with oats, dried apples, dried cranberries and almonds.  I bought this granola at Costco, and the Costco package was 2 of the 31 oz packages tied together.  The green package on the picture above is one of those 2 packages.  Each Quaker Natural Granola package is separately sealed, which is a great thing – it ensures that your granola stays fresh.
Here's the Quaker Natural Granola description from the package: "Taste and texture come together in every satisfying, delicious bite of heart-healthy Quaker Natural Granola.  Made with all-natural ingredients like whole grain Quaker Oats, almond slices, apples and cranberries, these lightly-sweetened clusters are perfect as a hearty breakfast or a crunchy topper.  With 5g of fiber and 5g of protein in every serving, it's a tasty way to help promote a healthy heart."
Here's the nutritional information for Quaker Natural Granola: serving size 1/2 cup, 200 calories, 5 grams of fat, 0.5 grams of saturated fat, 1.5 grams polyunsaturated fat, 3.5 grams monounsaturated fat, zero trans fat, zero cholesterol, 25 mg sodium, 220 mg potassium, 37 grams total carb, 5 grams of fiber, 13 grams of sugar, 5 grams of protein, 2% vitamin C, 4% calcium, 6% iron, 10% thiamin, 15% phosphorus, 10% magnesium.
Quaker Natural Granola can be eaten hot or cold.  To eat it cold, just pour milk over it.  To eat it hot, here are the cooking directions: combine 1/2 cup of granola and 1/4 cup of milk and microwave on high for 30 seconds.
Quaker Natural Granola is really tasty.  I like to eat it cold with milk!  A great thing about this granola is that it's very filling.  If you eat it for breakfast, you won't be hungry at all until lunch.
Here's the picture of the Quaker Natural Granola without milk.  See the apple slices, almond slivers and dried cranberries – yum!
And here's Quaker Natural Granola after the milk was added: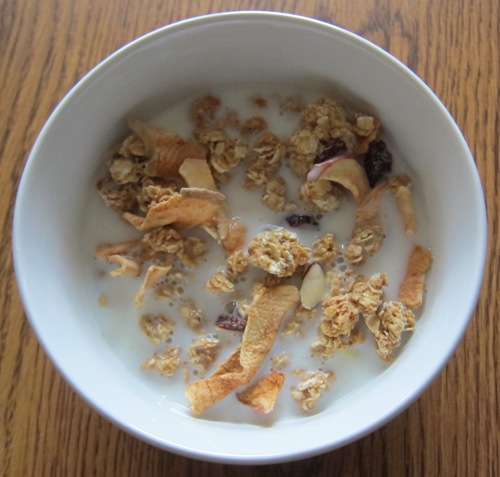 If you like granola, here's another great granola to check out: Cinnamon Raisin Granola by Cascadian Farm.
Get Melanie's FREE Recipes In Your Inbox!
http://www.melaniecooks.com/wp-content/uploads/2012/11/costco-natural-granola.jpg
468
400
Melanie Mendelson
http://www.melaniecooks.com/wp-content/uploads/2015/11/logo-new2.png
Melanie Mendelson
2012-12-10 07:29:51
2012-12-08 21:53:58
Quaker Natural Granola From Costco