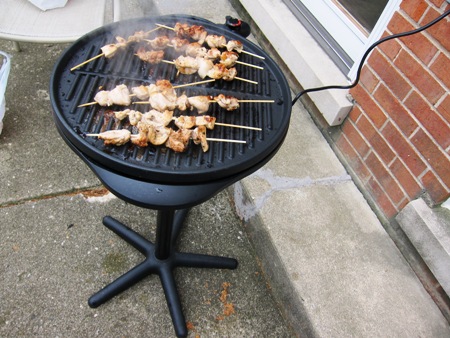 If you don't have the space or desire to get a big backyard grill, you can still enjoy grilling by using a small portable electric grill!  The electric grill is perfect for grilling on a balcony or small patio, and it is so light and portable – you can easily put it in your car.
While you won't get the authentic charcoal-grilled taste and smell from an electric grill, you will still get super-tasty food with real grill marks, and a fun BBQ experience!  So if you can't get the gas grill, don't give up on grilling – just use the outdoor electric grill!  Plug it into an outlet and grill away!
There are lots of outdoor electric grills on the market, and the most popular are Weber, George Foreman and Cuisineart.  They are all pretty good – just head over to a store that sells them and pick one with the best looks, features and price – whatever is the most important in your situation.
As you can see on the top picture, portable electric grills make great chicken shish kabobs 🙂  You can grill anything on the electric grill that you would grill on a gas one: meat, hamburgers, hot dogs, corn on the cob and other veggies.
Here are some great recipes you can test out on your electric grill:
Hot Dog Shish Kabobs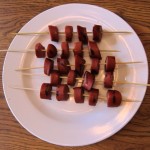 This recipe is so yummy, and the kids love it!  Hot dog pieces on the skewer make a hot dog shish kabobs, and they are ready in minutes! Check out the hot dog kabobs recipe.
Korean BBQ Beef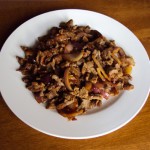 Korean BBQ beef is a perfect dish for the electric grill, so the small beef slices don't fall through the slots!  In this authentic Korean BBQ beef recipe the thin beef slices are marinated in soy sauce, garlic and spices, and then grilled – so yummy!  Check out my Korean BBQ beef recipe.
Ground Meat Kabobs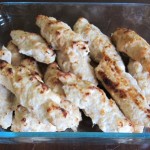 While shish kabobs are made out of solid chunks of meat, you can also make kabobs out of ground meat!  Ground meat kabobs are called "kefta kabobs", and what you do is you shape the meat into a sausage and put the skewer through it, then grill.  Check out the recipes for ground beef kabobs and ground chicken kabobs.
Have fun grilling with your portable electric grill!
http://www.melaniecooks.com/wp-content/uploads/2013/06/electric-grill.jpg
338
450
Melanie Mendelson
http://www.melaniecooks.com/wp-content/uploads/2015/11/logo-new2.png
Melanie Mendelson
2013-07-28 07:03:16
2013-07-25 11:05:40
Portable Outdoor Electric Grill