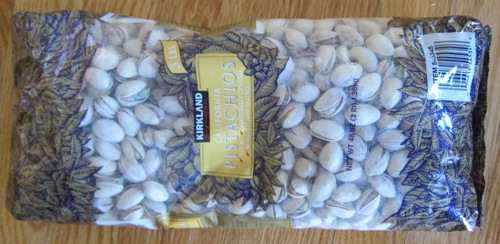 Pistachio nuts are very tasty nuts, and they are healthy due to anti-oxidants, healthy kinds of fats and various vitamins and nutrients.  I was really happy to get a huge package of yummy Pistachios at Costco!
Pistachio nuts are often sold in shells.  The shells in pistachios already have a huge crack in them, so they shells are split open.  It's very easy to peel the pistachios – the shells come right off when you separate the two shell halves with your fingers.
The Costco pistachios come in a 3 lb package.  The brand of Costco pistachio nuts is Kirkland signature.  These pistachios are California grown, roasted and salted.
Here's the nutritional information of Costco pistachio nuts: service size 30 g (1/2 cup with shells), 170 calories, 14 grams of total fat, 1.5 gram of saturated fat, zero trans fat, 4 grams polyunsaturated fat, 7 grams monounsaturated fat, zero cholesterol, 160 mg sodium, 310 mg potassium, 8 g total carb, 3 g fiber, 2 g sugar, 6 g of protein, 2% Vitamin A, 4% Calcium, 15% Thiamin, 15% Phosphorus, 20% Copper, 6% Iron, 20% Vitamin B6, 10% Magnesium, 20% Manganese.
These pistachios are a great snack – fun to eat, filling and nutritious! On the package, it's recommended to store pistachio nuts in a tightly sealed container in a refrigerator.  I never refrigerated mine – I just put the package of pistachios in a pantry.  These nuts were gone within a month, and I didn't notice any deterioration of flavor.
Here's the picture of pistachio nuts with shells in a bowl: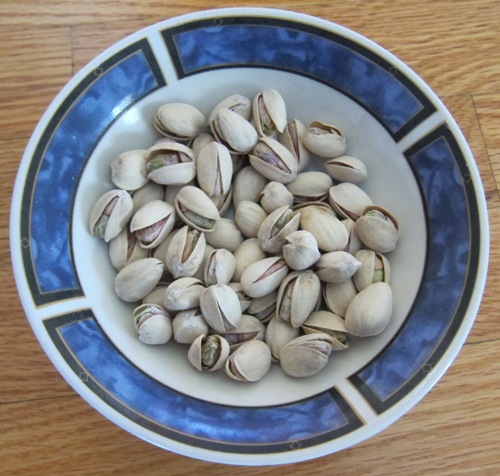 And here's the picture of pistachios without shells: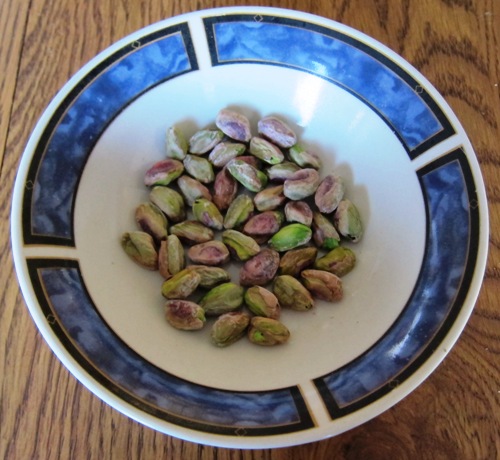 Here's the closeup picture of shelled pistachio nuts – yum!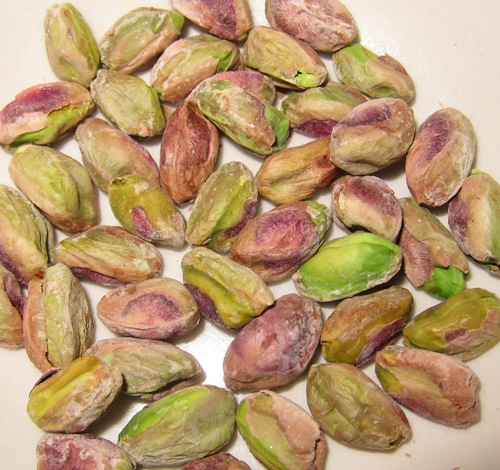 If you like to eat nuts for snacks as much as I do, check out Planters nuts mix, nuts with dried cranberries and the ultimate treat – candied nuts recipe!
http://www.melaniecooks.com/wp-content/uploads/2012/10/pistachios-with-shells-bowl.jpg
476
500
Melanie Mendelson
http://www.melaniecooks.com/wp-content/uploads/2015/11/logo-new2.png
Melanie Mendelson
2012-11-21 08:32:23
2012-11-14 15:33:11
Pistachio Nuts At Costco