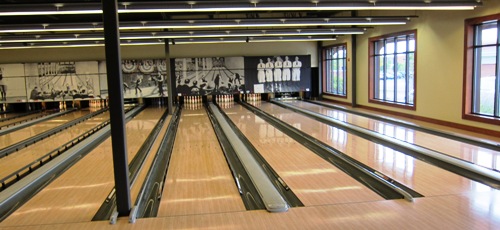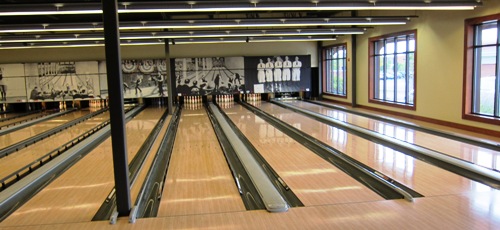 Pinstripes is my favorite place to go bowling in Chicago suburbs – it's a very clean and upscale place for bowling, bocce and dining. I love the fact that the bowling area has couches instead of the typical uncomfortable chairs!  Those couches make it so comfortable to lounge and chat while bowling 🙂  Another thing I love about Pinstripes bowling is their restaurant.  I'd never think that the restaurant in a bowling place is that nice! Pinstripes restaurant has great food, great prices, great service and great decor – we keep coming back to Pinstripes for a game of bowling and dinner!
Here's the picture of the interior of Pinstripes restaurant: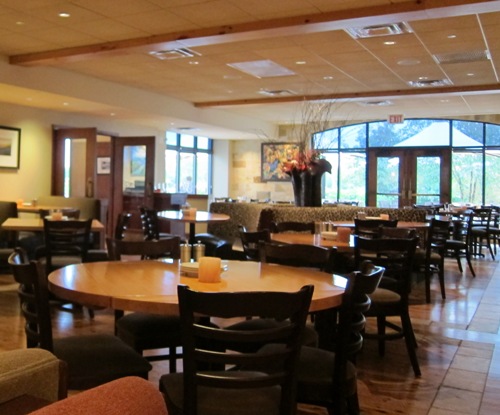 Pinstripes meal starts with the complimentary bread.  The bread is freshly baked and warm – yum!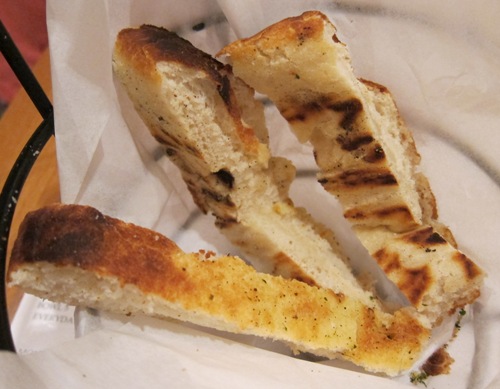 They also bring out the pesto to dip the bread: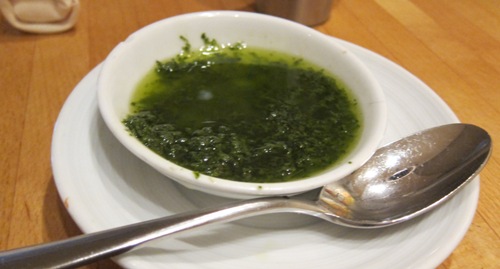 Pinstripes serves American food – sandwiches, chicken, steaks, fish, ribs, pasta, pizza flatbreads and salads.  The prices for sandwiches are $10-$14, pastas $12-18, meat and fish entrees $18-$27. Everything that I've tried at Pinstripes has been very good.
Pinstripes is very kid friendly.  Pinstripes kids menu options are 8-inch cheese pizza, chicken strips with BBQ sauce and fries, mini cheeseburgers with fries, buttered noodles tossed with Parmesan cheese, pasta with meatball or marinara sauce, peanut butter and jelly sandwich and fries, cheese panini and fries.  All kids meals are $8 and include the starter (bread sticks with marinara sauce for dipping), drink and dessert (ice cream sunday or root beer float).
Here's the picture of the kids starter – bread sticks with dipping marinara sauce.  Those breadsticks are freshly baked – hot and yummy, and smell so good!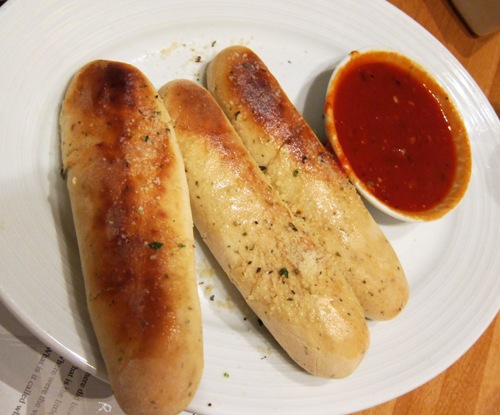 Here's the cheese pizza from Pinstripes kids menu – it's very cheesy and gooey – they surely don't skimp on cheese 🙂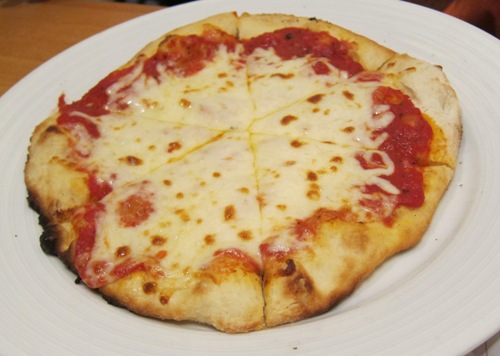 Here's pasta with marinara sauce from Pinstripes kids menu: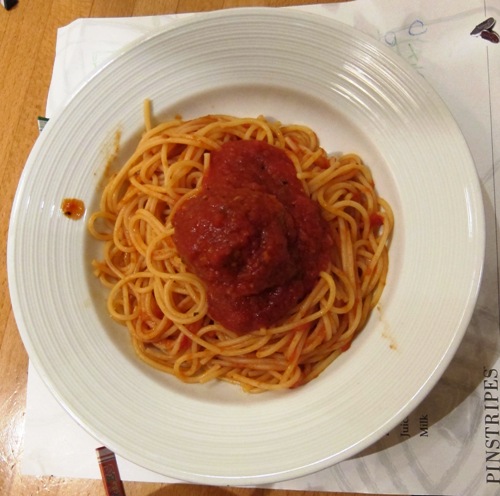 Here's the grilled cheese panini from Pinstripes kids menu: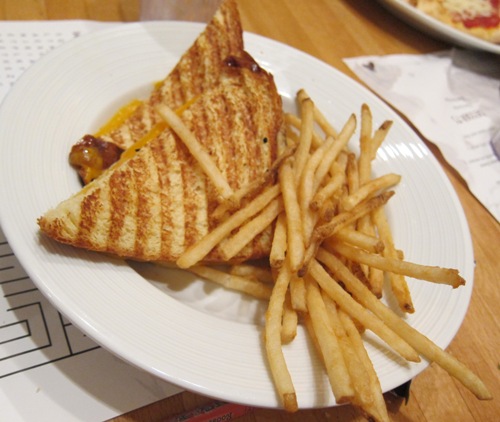 Here's the Pinstripes house salad: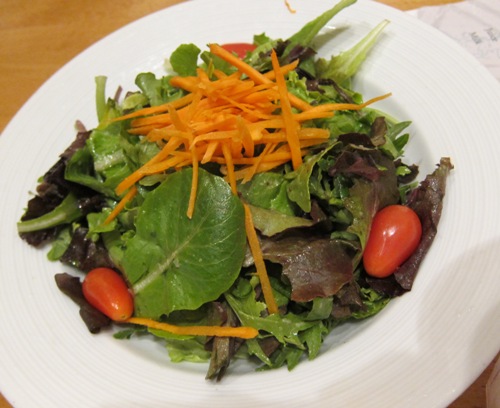 Here's the shrimp, spinach and tomato flatbread ($13).  This flatbread is served on a long board that is HUGE! I reduced the size of the picture, so you can't really tell how big this is, but trust me – this flatbread is super-long 🙂  It tastes superb!

Here's a very tasty main dish salad: pear salad with shrimp.  It has bibb lettuce, arugula, sliced pear, gorgonzola cheese, balsamic dressing, candied pine nuts and large grilled shrimp.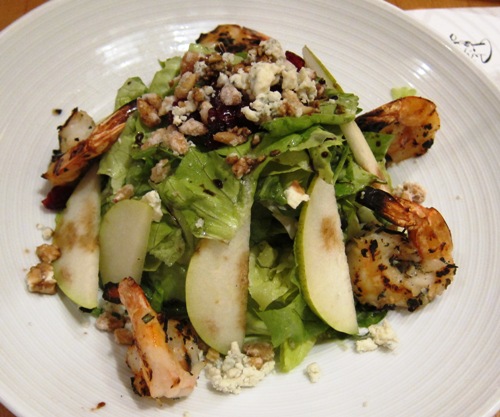 Here's the ice cream sunday from the kids menu: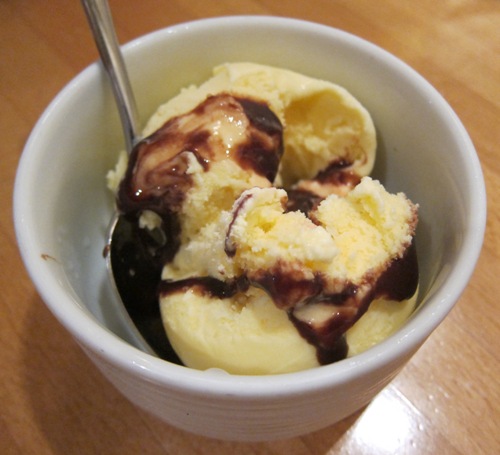 And here's my favorite dessert at Pinstripes – flourless chocolate cake!  This flourless chocolate cake is the king of chocolate cakes – it's so delicious!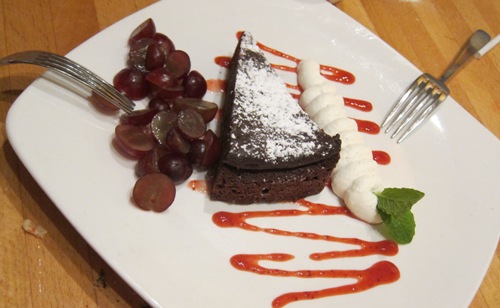 Pinstripes is located at 1150 Willow Rd, Northbrook IL 60062, phone #847-480-2323.  By the way, they also have an outstanding Sunday brunch!
Get Melanie's FREE Recipes In Your Inbox!
http://www.melaniecooks.com/wp-content/uploads/2012/08/pinstripes-bowling.jpg
230
500
Melanie Mendelson
http://www.melaniecooks.com/wp-content/uploads/2015/11/logo-new2.png
Melanie Mendelson
2012-08-30 06:24:33
2012-08-29 13:33:17
Pinstripes Bowling Restaurant Review - Northbrook, Chicago suburbs