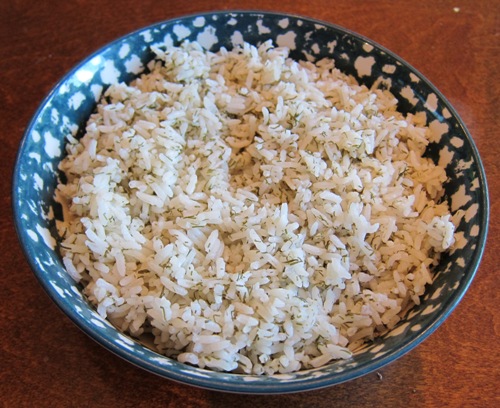 I've tried Persian dill rice for the first time at Reza's restaurant in Chicago.  Persian dill rice is a very tasty rice with the dill herb added to it.  Making your own dill rice is very easy.  If you are a fan of Reza's dill rice, make you own version by following this easy Persian dill rice recipe.
You can make this Persian dill rice recipe in either a regular pot or rice cooker.  I'm really lazy, so I always use the rice cooker to make white rice 🙂  My recipe instructions below are for the rice cooker, but if you are using the regular stove, just cook the rice and dill in a little oil in the pot, then add water and cook rice according to package directions.
For the dill, you can use either fresh or dry dill.  The advantage of the dry dill is that once you get a jar of it, you'll have it in your pantry and you can make dill rice whenever mood strikes – you won't have to go to the grocery store to buy dill.  You can get a large jar of dried dill really cheap in ethnic Eastern European stores.
Recipe: Persian Dill Rice Recipe
Ingredients
1 tbsp oil
2 tbsp dry dill (or 1/4 cup of fresh dill, very finely chopped)
1 cup white rice
2 cups water
1/4 tsp salt
1/8 tsp pepper
Instructions How To Make Dill Rice
Put the oil, rice, dried dill, salt and pepper in a rice cooker bowl. Mix until everything is combined and all rice grains are coated with oil.
Add water. Set the rice cooker to "White Rice" setting and press the "Start" button.
When the rice cooker cycle is done, fluff the dill rice with a fork.
Enjoy this yummy dill rice!  A great main dish to be served with Persian dill rice is Persian kefta kabob made out of ground meat – check out my beef kefta kabob recipe and chicken kefta kabob recipe.  Also, you will like Mediterranean stuffed grape leaves recipe and easy yellow rice recipe.
http://www.melaniecooks.com/wp-content/uploads/2013/03/dill-rice-recipe.jpg
408
500
Melanie Mendelson
http://www.melaniecooks.com/wp-content/uploads/2015/11/logo-new2.png
Melanie Mendelson
2013-04-10 06:23:29
2013-07-09 15:49:21
Persian Dill Rice Recipe