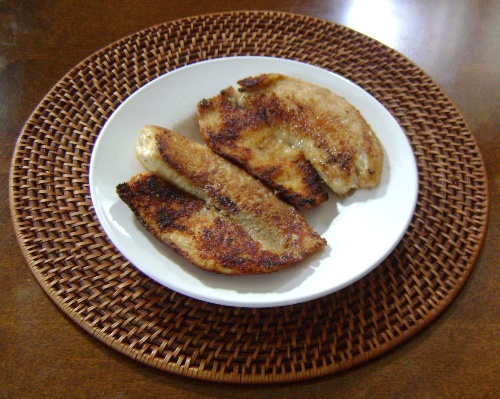 This recipe makes pan fried fish with a beautiful golden-brown coating.  Fish fillets are first coated in egg, then coated with flour, then fried on a frying pan.  Egg and flour coating protects the fish from drying out and creates a very tasty crust.  This fried fish recipe produces very yummy fish with crispy coating and tender succulent fish on the inside.
Ingredients For The Recipe Of Pan Fried Fish Coated In Egg And Flour:
1 lb fish fillets
1 egg
1 cup flour
2 tbsp oil
1 tsp salt
1/4 tsp pepper
Directions How To Make Pan Fried Fish Dipped In Egg And Flour:
In a bowl, whisk the egg.  Put the flour on a large plate.
Heat the oil in a large non-stick frying pan over medium-high heat.
Dip each fish fillet in the egg on both sides, then put the fish fillet on the plate with flour.  The flour will stick to one side of the fish, then flip the fish so the flour sticks to the other side of the fish.
Put the fish coated with egg and flour on the frying pan.  Sprinkle the fish with 1/2 tsp salt and 1/8 tsp pepper.  Cook for 4 minutes, then flip the fish to the other side.  Sprinkle with the remaining 1/2 tsp salt and 1/8 tsp of pepper.  Cook for another 4 minutes, then remove from heat and serve.
Enjoy your fish fried in egg and four coating piping hot!  This pan fried fish goes really well with the store-bought bottle of tartar sauce!