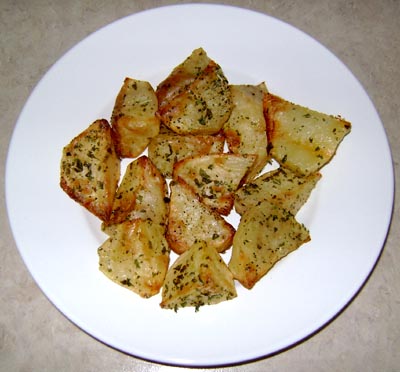 Oven roasted potatoes is my favorite potato recipe.  There are 3 reasons why I like oven roasted potatoes so much:
1) Oven roasted potatoes are very tasty.  Everybody loves yummy golden-brown potato pieces, hot out of the oven, sprinkled with some salt, pepper and herbs!  This potato recipe is a true crowd pleaser.
2) Oven roasted potatoes are very easy to make.  All you need to do is peel and cut the potatoes, toss them with olive oil and put them in the oven.  The oven does all the cooking – no need to boil water, deal with the frying pan or flip the potatoes – you put the potatoes in the oven and forget about them until the timer beeps.
3) Oven roasted potatoes are healthy.  They get golden brown in the oven without the excess fat! Oven roasted potatoes use the minimal amount of oil (less than a teaspoon per serving).  Compare this to the deep fryer :)  Oven roasted potatoes is one of those recipes that doesn't look like a typical healthy food, but is indeed very healthy.
Easy Oven Roasted Potatoes Recipe
Recipe Ingredients
8 medium potatoes
1 tbsp olive oil
1 tsp salt
1/4 tsp pepper
1/2 tsp Italian herb mix
Instructions How To Make Oven Roasted Potatoes
Preheat oven to 400F. Line 2 baking sheets with parchment paper.
Peel the potatoes and cut into quarters. Put potatoes in a bowl and pour oil over them. With your hands, spread the oil all over the potatoes, so all the potatoes are coated with oil.
Put potatoes on the baking sheets (make sure the potatoes are not touching each other). Put in the oven and bake for 45 minutes, or until the potatoes are golden brown and tender when pierced with the fork.
Remove the oven roasted potatoes from the oven. Sprinkle with salt, pepper and herbs.
Number of servings (yield): 4
More Pictures Of Oven Roasted Potatoes:
Here's the picture of the oven roasted potatoes on a baking sheet, right out of the oven.  This time I cut them into even smaller pieces.  They are so yummy and browned!
Here's another picture of oven roasted potatoes on the plate: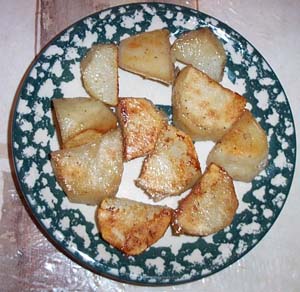 If you like this potato recipe, you will also love this: perfect mashed potatoes recipe, easy pan fried potatoes recipe and microwave baked potato recipe.