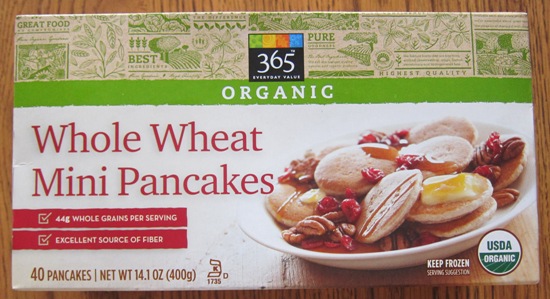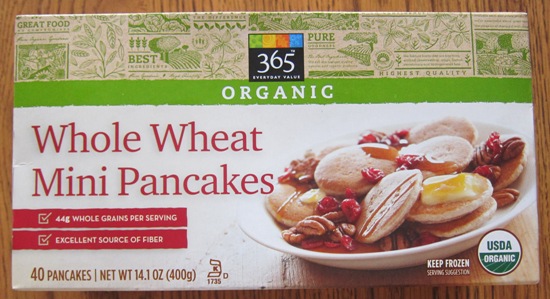 Kids love mini pancakes, and when these pancakes are made with whole wheat, that makes a healthy nutritious breakfast.  These mini pancakes are the 365 brand of Whole Foods and are sold only at Whole Foods.
The Whole Foods mini pancakes are whole wheat and organic – so healthy!  Each serving of these mini pancakes has 44 grams of whole grain, 5 grams of fiber and 6 grams of protein.  With so much of protein and fiber, these pancakes are actually pretty filling!
Here's the nutritional information for Whole Foods 365 Brand Organic Mini Pancakes: serving size 11 pancakes, 210 calories, 3 g fat, 1 g saturated fat, zero trans fat, zero cholesterol, 410 g sodium, 105 mg potassium, 41 g total carbohydrate, 5 g fiber, 7 g sugar, 6 g protein, 6% calcium, 8% fiber.
To cook the mini pancakes, just microwave them until hot – it takes about a minute for 10 mini pancakes.  I like to put the mini pancakes on a paper towel before putting them in a microwave – the paper towel absorbs moisture and keeps the mini pancakes from getting wet.
Here's the picture of the mini pancakes on a paper towel, just finished microwaving:
Here are the mini pancakes on a plate – ready to be eaten!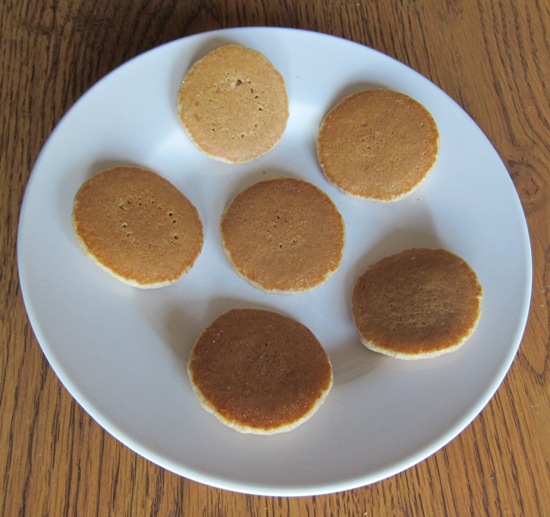 If you like mini pancakes, also check out Eggo Mini Pancakes from Costco – I buy both brands, and we like all kinds of mini pancakes – they are so yummy!
http://www.melaniecooks.com/wp-content/uploads/2013/01/whole-foods-mini-pancakes.jpg
299
550
Melanie Mendelson
http://www.melaniecooks.com/wp-content/uploads/2015/11/logo-new2.png
Melanie Mendelson
2013-02-05 07:31:04
2013-02-05 07:35:49
Organic Whole Wheat Mini Pancakes From Whole Foods