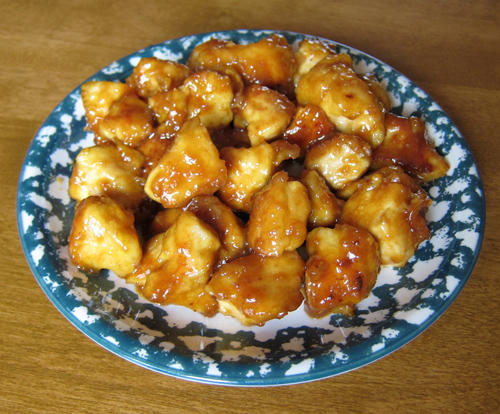 Orange chicken is one of the most popular Chinese recipes.  Many people order Chinese takeout just so they can eat some orange chicken!  Good news is that you can make authentic tasting Chinese orange chicken recipe at home – no need to go to Panda Express to get your orange chicken fix :)
Follow this easy orange chicken recipe and you'll learn how to make orange chicken yourself right away.  Once you know how to make orange chicken, you'll impress all your family and friends by making a delicious orange chicken at home from scratch!
Chinese Orange Chicken Recipe
Ingredients For Orange Chicken
2 lbs skinless boneless chicken breasts, cut into 1-inch pieces
oil for frying
***SAUCE INGREDIENTS***
2 cups orange juice
1/2 cup white vinegar
1/2 cup soy sauce
1 cup dark brown sugar
8 garlic cloves, minced
1-inch piece of ginger root, grated
1 tsp red pepper
1 tbsp cornstarch
***COATING INGREDIENTS***
4 egg whites, whisked
1 cup cornstarch
Instructions How To Make Orange Chicken
Combine all sauce ingredients except cornstarch and mix well.
Put chicken pieces in a bowl and pour 1 cup of the sauce over the chicken (reserve the rest of the sauce). Mix it with your hands so all the chicken is covered with sauce. Leave to marinate at room temperature for 30 minutes.
Put the remaining sauce in a sauce pan and bring to a boil. In a small bowl, whisk 1 tbsp cornstarch with 1 tbsp of water. Add cornstarch mixture to the sauce and stir for 2 minutes, until sauce is thickened.
Fry the chicken:
You will need to fry it in batches, so the chicken pieces are not crowded in the pan – they need to fit in a single layer without much touching.
Heat the oil (enough to cover the bottom of the pan) in a large frying pan over medium-high heat. Put 1 cup of cornstarch in a large plate.
Coat the first batch of chicken pieces – dip them in the egg whites (so they are covered in egg white all over), then remove from egg whites and roll in the cornstarch (so they are covered with cornstarch all over).
Put the chicken in a frying pan. Fry, stirring occasionally, for about 3 minutes, until golden-brown all over. Remove from the frying pan.
Add more oil to the pan (enough to cover the bottom of the pan). Repeat coating and frying with the remaining batches of chicken.
If the sauce got cold, reheat it. Pour the orange sauce over the chicken, stir so it's coated, and serve.
Here's another picture of Chinese orange chicken, with rice on the side: