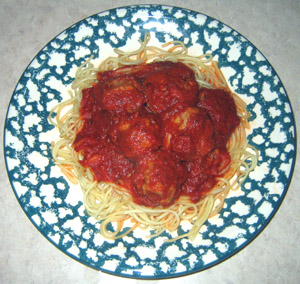 Making homemade meatballs from scratch is really easy.  All you need to do to make meatballs is to mix ground beef, grated onions and bread crumbs, roll into the balls, pan-fry them and simmer in tomato sauce.  Once you remember this easy process, you will know
how to make meatballs
!
When you taste these best homemade beef meatballs, you'll never want to eat those cooked frozen meatballs from a bag :) These beef meatballs are the most tender and juicy meatballs I've ever tasted!To mince the onion for the meatballs, I just use the food processor fitted with the steel blade.  Mincing the onion has never been easier – just peel the onion, cut it into quarters and process for a few seconds – that's it!
Easy Homemade Beef Meatballs Recipe
Beef Meatballs Ingredients
1 lb ground beef
1 small onion, minced
1/4 cup bread crumbs
3 tbsp cold water
3/4 tsp salt
1/8 tsp ground pepper
1 tbsp oil
1 jar (26 oz) pasta sauce
Instructions How To Make Meatballs
In a bowl, combine the ground meat, minced onion, bread crumbs, water, salt and pepper.
Heat the oil in a large non-stick pan over medium-high heat. Form the meat mixture into balls and put them on a frying pan. Cook for 3 minutes, then turn the meatballs over with a spatula and cook for another 3 minutes.
Pour the pasta sauce over the meatballs. Reduce the heat to low, cover and simmer for 30 minutes.
Serve these yummy beef meatballs over pasta and enjoy!   If you like meatballs, also check out my turkey meatballs recipe – they are really yummy too!